Belkin's new cases for the iPod nano 4G celebrate the vibrant colors of the nano with graphical and technological enhancements. Speaking to consumers' want for cases that act as an extension of their personal style, Belkin's Micra and Fuse Cases tell us that we don't have to hide the color of our iPod nano in order to protect it.
By targeting the lifestyle market, Belkin is bringing more fashion and style to cases with:
* Enhancement with etched designs, checkered patterns, and sparkly touches; and
* Use of the playful, bold, bright colors of the '80s.
AVAILABILITY
* All cases (except Micra Flow) are currently available in the US, Europe, Middle East, Africa, Asia, and Australia.
* Micra Flow Case is only available in Europe, Middle East, and Africa.
Micra Cases
Playing with pigment and texture, Micra Cases are clear with a subtle graphical detail. Typically a case tends to hide the color of your iPod nano. Micra, however, celebrates the beauty of your iPod nano while still adding a discreet flair to it. A ClearScreenTM Overlay is included to protect the screen of your iPod. Micra Cases are made of polycarbonate-a material much stronger, of higher quality, and more impact-resistant than acrylic. In fact, polycarbonate is often used in safety and bulletproof-glass applications.
Micra Glam (F8Z421-SPK) – $19.99 (Single), $24.99 (2-Pack)
* As the first iPod case with sparkle, Micra Glam follows the trend of "blinged" cases that are adorned with Swarovski crystals or rhinestones.
* Micra Glam takes a more lasting approach by injecting the sparkle on the inside of the case so the "sparkle" doesn't rub off.
* Glass beads in the plastic case give off a subtle glamour and shine.
* It's an elegant, sophisticated way to add sparkle to your iPod without masking its natural color.
Micra Dusk (F8Z421-SMK) – $19.99 (Single), $24.99 (2-Pack)
* Following the trend toward darkened colors, Dusk gives your nano a smoky charcoal tint.
* This smoked tint adds a different dimension to your iPod.
* For example, Dusk will darken the purple of your iPod, making it more of an eggplant color.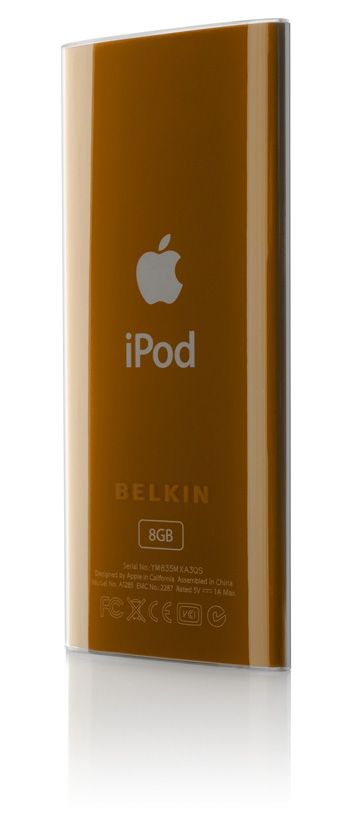 Micra Chex (F8Z421-019) – $19.99 (Single), $24.99 (2-Pack)
* The iconic '80s checkerboard-from checkered Vans, "Fast Times at Ridgemont High," and the Rubik's Cube-is back, but this time on a very 2009 piece of technology.
* Chex layers a white checkerboard pattern on your nano without altering its color.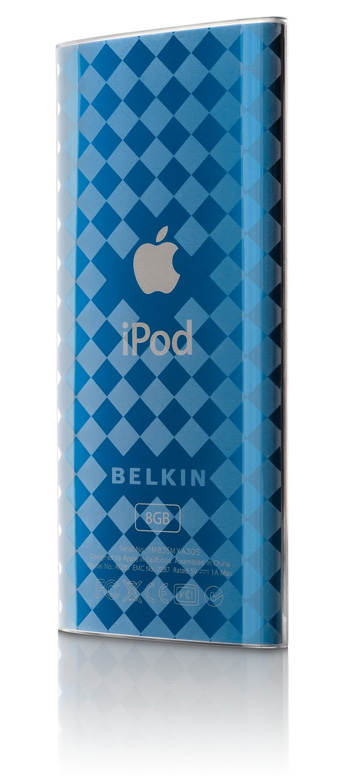 Micra Flow (F8Z421-CNT) – $19.99 (Single), $24.99 (2-Pack)
* Flow features a graphic representing a sound wave that evokes motion.
* Tied into resonance, Flow captures technology and audio in its form.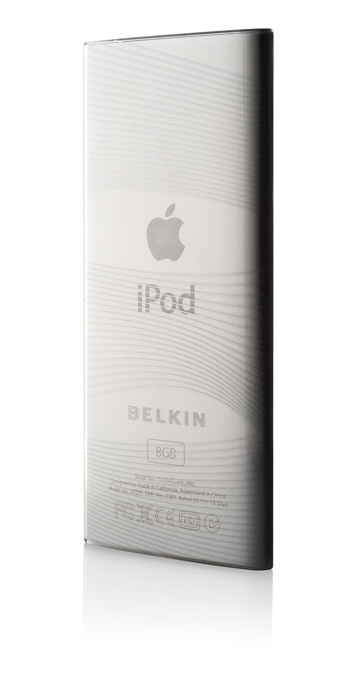 Fuse Cases
Inspired by the bold, playful, bright colors of the '80s, Fuse tells us we don't have to give up color for protection. The influence of the '80s started in the snow and skate industries with the experimentation of bright colors on clothing and equipment. The 1980s further permeated into the hip-hop crowd through preppy shorts, polo shirts, and neon sneakers. And, now, Belkin brings the '80s' influence to iPod cases.
Fuse (F8Z423) – US: $24.99
* Representing paint dripping on canvas, the case's two ends lock together, fusing two colors together.
* The top of the case is made of high-gloss polycarbonate, while the bottom is matte-finish polycarbonate.
* Parts interlock for a secure fit and maximum protection.
* Colors: pink/black, yellow/black, red/black, clear/black, purple/black, blue/black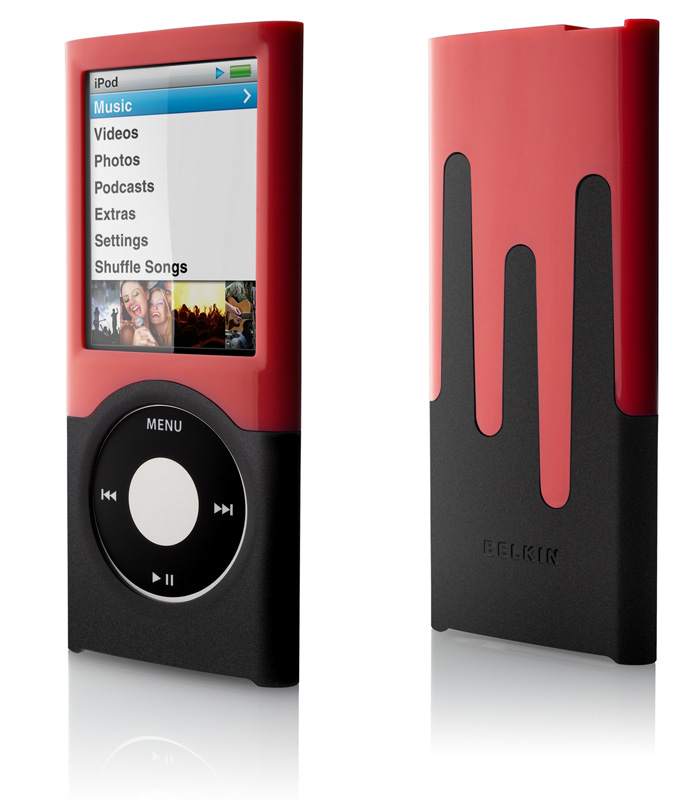 Source: Belkin