The UK based company Calibur11 is set for pre-order their cool looking enclosures for Xbox 360 Slim gaming console. The cases under the brand name "Vault" are fully customizable and will be available this May.
The Vault cases are made of "hi-tech" injection molded polymers and come in variety of colors and designs, plus the company promises that will add more new designs throughout the year. Calibur11's enclosures provide an expandable, customizable shield that lock into the base chassis and feature a distinctive array of utility mounting points, that allow further customizations and to bе embed additional accessories, like controller cradle, custom name plate and other. The vault case also allow for more optimal ventilation and ensure better stability, thanks to the the wider footprint design.
From company also explains that you be able to chose from many different back ground styles and put your own wording, even your gamertag, on your system.
Calibur11 also offers a official licensed MLG Vault (Major League Gaming) which comes with custom Digi-Camo chassis and body, and feature an apocalypse android-head, which has LED eyes  can light up in 8 different modes in the traditional MLG colors red & blue.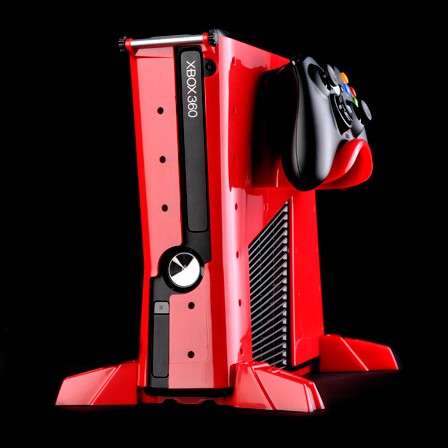 Calibur11's Vault cases are available for pre-order now, priced at £49.99, while the MLG Vault variant will cost you £74.99. For more information about  Calibur11's Vault cases and their other products, visit www.calibur11.co.uk.