LG has struck another blow against competitors just days before the MWC in Barcelona, Spain. After the recent release of the LG Optimus Vu smartphone, the Korean electronics giant launched an entirely new L series that arrives with the Optimus L3, L5 and L7 handsets.
Just like Intel's Core i3, i5 and i7 processors, serving budget, mainstream and high-end market segments, the L3, L5 and L7 do the same thing. Sitting in the budget category is the Optimus L3 that comes with a 3.2-inch display and Android 2.3 Gingerbread. Other specs include 240×320 pixel resolution and a 3-megapixel rear camera.
The Optimus L5, as expected, is the mid-range handset in the L series and as such comes with a 4-inch display and Android 4.0 Ice Cream Sandwich. The screen also features "enhanced readability" that hints of a good resolution.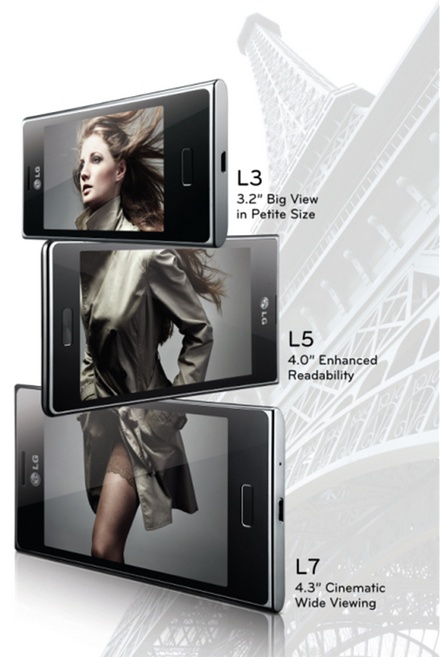 The L7 is the ultimate (as of now) in the L series of handsets and arrives with a 4.3-inch screen and Android 4.0. There is no additional information about the hardware but the processor should have at least 2 cores.
All three smartphones share the same design philosophy – metallic feel (although the actual material used may not be metallic), curved edges and a single rectangular physical button on the bottom. All phones of the L series will also feature a "floating mass display" technology that makes you get the feeling as if the screen is floating as the actual display is very close to the glass surface. The phones should also be very thin and light but as mentioned there are no official specs characteristics yet so this cannot be confirmed.
Source: Phonearena