NZXT, a company built on realizing the dreams of gamers worldwide, is proud to announce the Guardian 921, a gaming chassis in the NZXT Crafted Series. Building off of the original Guardian's success, the Guardian 921 features a robust set of features for the budget conscious PC Gamer. Designed with a futuristic and sleek curves, the Guardian 921 is the perfect chassis to show off your gaming chassis.
The NZXT Guardian 921 is awesome. The Halo video game helmet shape on the front with the LCD looks great. The three blue lit lines on the front also gives it a nice look. Moreover, the case looks even greater when you switch on the front and back fans, to show the blue LED on, which is allowed by the removable hard drive cage. However, this one is held in place by four screws, differently from the tool-less features allowing quick and easy hardware installation for drives and expansion cards.
The three fans equipping it perform well. They could have been spinning a bit faster, but noise would have increased. They are incredibly quiet at their speed, and they still beat a faster fan setup like in the Thermaltake Xaser VI VH9000BWS. But there is also a small problem having a third fan on the side. This one leaves little room for larger heatsinks such as my Xigmatek HDT-S1283 CPU cooler. I have to force a bit to get the panel closed, therefore pushing on the motherboard. However, if you plan on watercooling, you won't have any problems. The Guardian 921 even allows you to pass tubing to an external radiator by two holes at the back, especially made for that purpose. Moreover, a great feature which adds to both watercooling and air cooling setups, is the temperature reader with three probes. You can stay aware of any temperatures, simply by looking at the LCD in front of the case.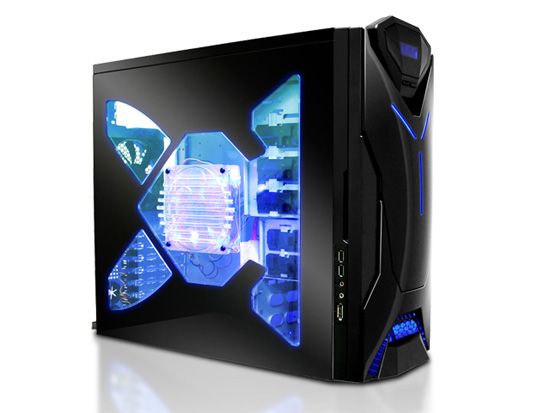 However, it seems that NZXT cut a bit on accesories. There could have been a SATA cable and more than one tie-wrap supplied, but that's no big deal. You would need those tie-wraps to ensure that there is good cable management, because it is a bit hard. The problem is that you can't pass cables between the motherboard tray and the 5.25″ drive cage, so that complicates the cable management. However, it is roomy for a mid-tower, so that is a big plus.
Overall, the NZXT Guardian 921 is a very good case that merits consideration when shopping for a new case. It is not far from being perfect. I would recommend it to anyone in need of a new case.
Pros:
Tool-free design

Good air flow

Roomy

Great looks

Removable hard drive cage

Very quiet

Temperature display with 3 probes

Watercooling ready
Cons:
Cable management a bit hard

Some processor coolers might not fit in it

Slim accessories bundle
Specifications:

MODEL

GUARDIAN 921

CASE TYPE

MID TOWER STEEL CHASSIS

DIMENSIONS (W x H x D)

206X459X522 mm

COOLING SYSTEM
FRONT, 1 X 120 mm BLUE LED FAN [Included]
REAR, 1 X 120 mm FAN [Included]
SIDE PANEL, 1 X 120 mm BLUE LED FAN [Included]
DRIVE BAYS
9 DRIVE BAYS
3 EXTERNAL 5.25″ DRIVE BAYS
2 EXTERNAL 3.5 " DRIVE BAYS
4 INTERNAL 3.5″ DRIVE BAYS
SCREWLESS RAIL DESIGN
MATERIAL(S)

SECC STEEL CHASSIS

EXPANSION SLOTS

7

POWER SUPPLY

400 WATT PS2 ATX 12V ( OPTIONAL )

WEIGHT

8.2 KGS (W/O Power)

MOTHERBOARD SUPPORT

MOTHERBOARDS: ATX, MICRO-ATX, BABY AT
Features:
NZXT Crafted Series Design: NZXT's latest addition to the Crafted Series takes cues from gaming culture with elegant curves and a newly designed clear side panel

Spacious Interior and Solid Construction: Built from solid .88mm and 1.00mm steel, the Guardian 921 gives the user ample space for large, high-end video cards and space for up to four internal hard drives

Constant Temperature Monitoring: Three temperature probe monitoring system allows the user to constantly gauge thermals within the system at all times to prevent overheating

Multimedia and peripheral inputs: E-SATA, Intel HD audio, mic, and two USB inputs are standards with the guardian 921 allowing for maximum peripheral input

Silent Cooling: Comes standard with 3 120mm fans installed to maximize cooling performance with minimal noise
Source: OverclockersClub