Sharp Corporation announced today ten new Aquos Quatron TVs to the Japanese market. Four models in the new LV Series of 3D-compatible LCD TVs with four-primary-color technology (LC-60LV3, LC-52LV3, LC-46LV3, LC-40LV3),  four new models in the LX Series and two models in the XF Series of AQUOS Quattron LCD TVs.
Sharp claims that 3D-compatible AQUOS Quattron 3D LV Series with four-primary-color technology, provides a brightness approximately 1.8 times greater than three-primary-color LCD panels and with combination of FRED technology—Sharp's proprietary high-speed LCD drive technology—and Scanning LED Backlight technology that reduces image lag "enables 3D images to be reproduced with an exceptionally realistic sense of depth and with extremely low crosstalk."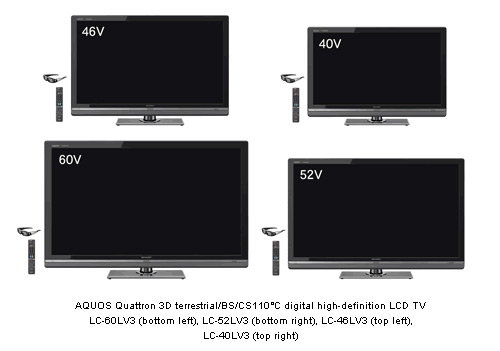 The XF series feature thin and seamless full-flat design just 3.9 cm thick,  an edge-lit LED backlight and together with LX series includes eight-speaker system(ARSS Around Speaker System) integrated into the TV Bezel, plus Duo Bass low-vibration woofer and high-performance AudioEngine audio chipset, producing audio with a realistic sense of presence.. In addition, these models also feature support of the WiFi via USB LAN adaptor and external USB hard drive Video recording, allowing users to record and play back digital broadcast programs simply and easily using the TV remote control.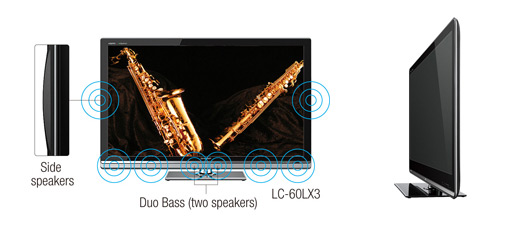 "Sharp developed four-primary-color technology based on its proprietary UV2A technology . This technology newly adds Y (yellow) to the three RBG (red, blue, green) primary colors, dramatically improving the ability to faithfully reproduce colors. In particular, it enables both 2D and 3D images to be reproduced with outstanding quality by vividly rendering colors such as brilliant yellow, brassy gold, and emerald green, which are difficult to reproduce using the three conventional primary colors. Further, a significant improvement in light utilization efficiency yielded a reduction in power consumption by approximately 10% compared to previous models with UV2A technology."
Source: Sharp