LG Electronics (LG), a leading player in the global flat panel display market, today announced the launch of its new LCD TV LG80, which is specially designed as an ideal home theatre TV with superb sound system and unparalleled picture quality.
LG80 is part of LG's continuing Scarlet series, along with the LG60 and LG70, and has carefully tuned speakers that automatically slide out of the side of the set when it is turned on. This feature not only adds a bit more excitement to LG's high performance TV, it also helps improve sound quality. LG incorporated a 3.1-channel virtual surround sound system into the LG80, creating an immersive experience without the need for external speakers.
"We developed the LG80 based on insights that we found from customer surveying. The results indicated that customers want a TV that delivers more than just great picture quality. They also want a TV with superb sound quality," said Simon Kang, head of LG Digital Display Company. "We expect this TV to really resonate with young people who like to entertain friends at home while watching movies and sports or playing video games. It also has the features requested by people upgrading from older CRT or projection sets to flat panel TVs."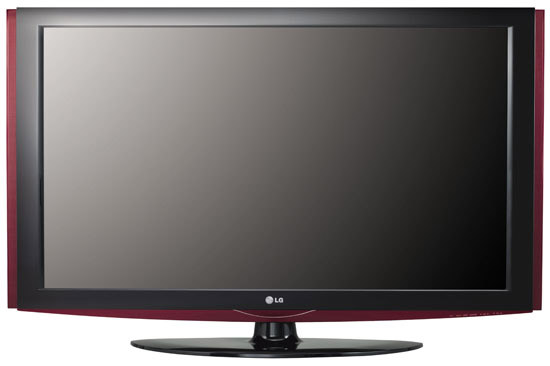 High Sound Quality
At the heart of the LG80's sound system lies a 3.1-channel virtual surround sound system, fully incorporated into the TV itself. This represents a major step forward in built-in TV sound. Most TVs can only play two audio channels without adding an external receiver and additional speakers. Stereo has been the standard for a long time, but LG took this a step further, giving it 50 watts of output, compared to 20 watts for most TVs.
A total of four speakers make up the system. Extending from either side of the TV are the right and left channel speakers, which help create a sense of space. In the middle is a center channel speaker dedicated to sound in the human vocal range, which makes it easier understand conversations and dialogue. A woofer, located on the back of the TV, enhances bass, making music sound fuller and allowing viewers to feel the action in hard-hitting sports and movies.
The entire sound system was tuned to perfection by renowned audio expert Mr. Mark Levinson. Even at its maximum volume there is no clipping and no distorted sound, thanks to LG's unsurpassed technology. The Scarlet LG80 is also equipped with LG's Clear Voice technology, which eliminates problems with hearing human voices over background noise in movies mixed for 5.1 channel surround sound. The Clear Voice feature alters the sound balance to emphasize human voices, reducing the background noise.
Unique Design
The LG80 is designed along the same sleek lines as LG's other Scarlet series TVs, the LG60 and LG70. These TVs blend superior technology with exciting design to create masterpieces that are changing the way that people look at TVs and experience television sound.
The Scarlet LG80's speakers slide out from either side of the TV when it is turned on, revealing their alluring scarlet shade. The smiling LG logo and soft red frame which includes channel and volume buttons make the TV feel much warmer and a welcome addition to any living room.
By hiding the speakers when the TV is turned off, LG took design to another level, helping to create harmony with the rest of the room.
Smart Technology
The Scarlet LG80 brings viewers the highest resolution available, with 1080p full HD providing extremely sharp image quality. A 30,000:1 contrast ratio means brighter whites, deeper blacks and more vibrant colors overall.
The Scarlet LG80 is a true multimedia TV with three AV modes that optimize the TV's picture for movies, video games or sports by a single click of a remote control.
With a USB 2.0 connection, it is easy to access to MP3 files and connect a memory card reader to the TV and create an onscreen slideshow from JPEG files or watch digital video files, a feature unique to LG. Two HDMI 1.3 ports allow for fully digital video and audio connections for devices like DVD players, cable boxes and game consoles. This eliminates any interference like color banding and creates a deeper, more vivid image.
LG80 will be available from October in all markets except North America and Europe starting, 2008.
Specifications
Full HD Ready 30,000:1
AV Mode
Glare reduction
Home Theater Effect
Woofer
Clear Voice, SRS, TSXT
2HDMI
USB2.0 (JPEG, MP3, DivX)
E-Con, SIMPLINK
50W Power Sound
3.1 Channel Surround