Sony's BRAVIA™ Theatre 'invisible home cinema' products bring all the excitement of great surround sound while keeping the system completely hidden in a TV stand. The new RHT-G500, which fits into the line-up below the existing RHT-G900 and G1500, is designed for use with 32 to 40-inch TVs.
All you see is a sleek-looking TV stand, the perfect partner for BRAVIA™ LCD TVs – but thanks to advanced signal processing technology, you also hear remarkable sound effects all around you.
Surround-sound from a TV stand
The RHT-G500 uses a 3.1-channel sound system, with centre, left and right speakers and subwoofer built into the TV stand. Using S-Force PRO Front Surround technology, the RHT-G500 creates a soundfield that not only fills the room, but also envelops listeners in breathtaking surround sound effects. This means you enjoy great surround sound without rear speakers or messy wires.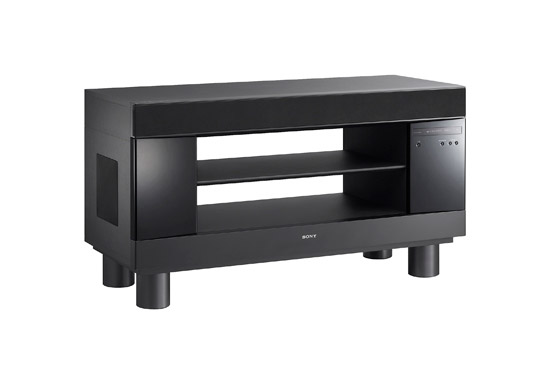 Audio inputs for TV, DVD and Blu-ray Disc™
The RHT-G500 can accept sound from a wide range of sources: the TV, DVD players and satellite/cable/terrestrial digital set-top boxes. It even delivers high-definition sound from a Blu-ray Disc™ player or PLAYSTATION®3, opening up a whole new world of high-definition audio.
BRAVIA™ Sync for one-button operation
BRAVIA™ Sync allows a complete system – DVD or Blu-ray Discä player, BRAVIA™ TV and surround-sound – to be operated from a single remote control, using control signals carried on the HDMI connections. For example, simply pressing 'play' on the remote will turn on all devices simultaneously and start playing your movie in engrossing surround sound.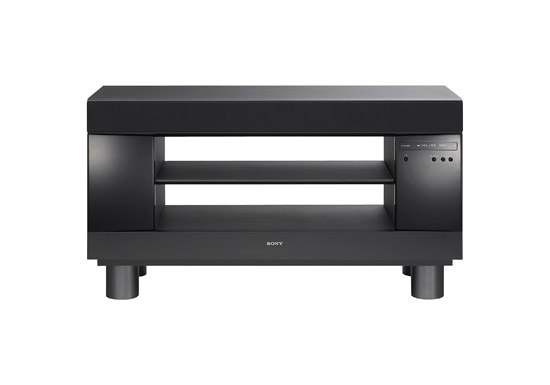 HDMI pass-through with 1080p / 24p / x.v.Colour compatibility
To make the connection of a complete system as simple as possible, the RHT-G500 has three HDMI inputs and a monitor output, and these can pass through superb high-definition video from a Blu-ray Disc™ player to one of Sony's latest BRAVIA™ LCD TVs.
DIGITAL MEDIA PORT for all your mobile music
The RHT-G500 also allows you to connect portable players, Bluetooth® devices and even a Wi-Fi network, to enjoy your music through its amplification and speakers. It's all made possible by the DIGITAL MEDIA PORT and its range of modular adapters, while a built-in Portable Audio Enhancer system will also improve the sound quality of tracks stored on these mobile music devices.
Simple, intuitive operation
The RHT-G500 comes complete with a remote control, and has a clear, easy-to-read display on its front panel. It really is home theatre made simple – and invisible!
The RHT-G500 at a glance
A complete home cinema surround sound system built into a TV stand!

Designed for use with 32-40 inch BRAVIA™ LCD TVs

Stylish, smart and innovative: fill your room with surround sound, not clutter and cables

Sony's S-Force PRO Front Surround technology for virtual surround sound without any rear speakers

Three HDMI inputs, compatible with the latest Full HD picture formats: connect all your video

Easy to use, thanks to BRAVIA™ Sync for further system integration

DIGITAL MEDIA PORT for connectivity with WALKMAN® and other MP3 players, mobile phones, Bluetooth® and Wi-Fi devices, with Portable Music Enhancer