JVC (Victor Company of Japan, Limited) announced the early-March launch of the DLA-SH7NL, a 4K2K D-ILA projector incorporating three 1.27-inch 4K2K D-ILA display devices for high-quality imaging and dual ultra-high-pressure mercury lamps for 5,000 lumens of brightness. Combining superb definition and resolution with low-cost maintenance, the 4K2K D-ILA projector is expected to be widely accepted for planetariums, museums, simulators and medical institutions, as well as used for high-spec designing and monitoring.
The new model join the DLA-SH4K, which debuted in January 2008 as 4K2K D-ILA projector and quickly drew high praise. Like its predecessor, the DLA-SH7NL achieves ultra-high resolution of approximately 10 megapixels (4,096×2,400), or more than four times full HD, plus a stunning 10,000:1 native contrast ratio.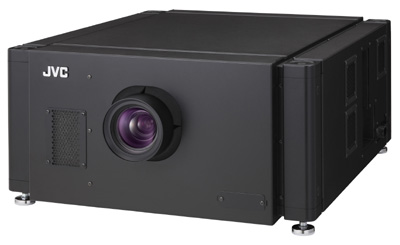 Notable features of the new DLA-SH7NL include the following
Dual 330W ultra-high-pressure mercury lamps, producing 5,000 lumens of brightness. In single lamp mode, the DLA-SH7NL can automatically choose the lamp with less cumulative operating time for maintenance efficiency. This, plus the addition of a low-power mode, enable lamp life of approximately 3,000 hours, about double that of conventional projectors. Such features allow the DLA-SH7NL to offer low running costs even under heavy professional-use conditions.
JVC's own 4K2K D-ILA devices deliver approximately 10 megapixels of high-resolution, and can simultaneously display two or four screens in WUXGA (1,920 x 1,200) and full-HD resolution. Multi-screen projection is facilitated by four DVI (Dual-Link) input terminals supporting an array of PC input formats.
True black quality with stunning 10,000:1 native contrast thanks to a wire-grid optical engine.
Weighs only about 50 kg, excluding lens. Elaborate design offers operational flexibility, including stacking two projectors to display 3D images or installation on a 90-degree tilt.
Both short-focus and telescopic lenses are optionally available for extended projection applications.
The DLA-SH7NL operates on normal AC 100-220V power and consumes less than 1.1kW, helping to ease power-supply requirements. Color registration of RGB panels in the optical system can be mechanically adjusted in 1/10 pixel accuracy. Six test patterns, including a crosshatch and color bars, enable image adjustment without external signal sources. Three types of gamma tables are incorporated to set tone expression in accordance with specific images.
The Ethernet-compatible DLA-SH7NL can be configured via a PC web browser. Multiple projectors are networkable for operation via a single PC. E-mails can be generated automatically to send lamp-replacement reminders and error-status notifications for enhanced maintenance. The projector's configuration data are easily stored and uploaded from a USB memory device.
Source: JVC