The high-end audio products manufacturer Marantz announced its new flagship AV receiver SR7005 featuring nearly 1KW of power,  full compatibility with 3D TV and HD Audio, as well as an integrated media player.
The flagship system comes in elegant full-metal chassis, clean front panel which sports a classic blue illuminated circular display and a porthole 2nd display. The audio "brain" of the system is the latest generation 400Mhz, 32-bit Sharc DSP from Analog Devices, which "easily handles HD audio decoding and the Audyssey MultEQ XT PRO room equalisation auto set-up". There're also included DSX processing, Dynamic EQ to maintain bass and rich sound at low volumes, Dynamic Volume and Dolby ProLogic IIz for enhanced vertical and horizontal spatial performance from the front channels.
The "muscle" of the system is a current feedback amplifier circuit with proprietary Marantz HDAMs  and an oversized low impedance transformer for rapid current supply. This works alongside custom filter capacitors and hand-selected customized components. The receiver has six HDMI 1.4a inputs, two of them offer HDMI pass through in standby mode, front USB input for iPod/iPhone Digital connection (Audio) or USB Memory (Audio/Photo), RJ45 Network jack, Bluetooth & IR Receiver and all necessary analogue input jacks.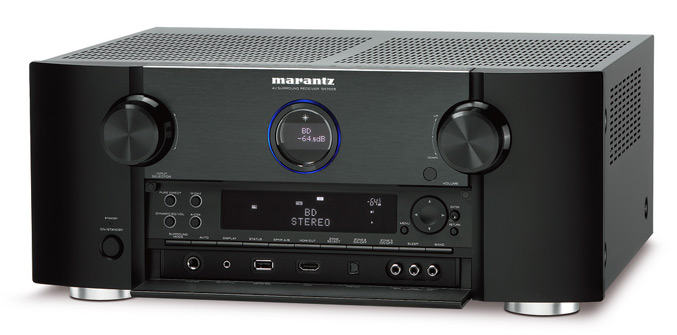 The SR7005 also has a built-in digital media player and is capable to access and stream music and static jpg images content from your home network, access to vTuner Internet radio and supports music services such as Napster. The AV-Receiver utilize a segmented power structure, with separate power supplies for each key audio section, and extensive internal shielding of key components to avoid electrical interference.
The SR7005 will be available from August in black or silver/gold for $1599.99