It's common knowledge that many flatscreen manufacturers spend no more than a couple of dollars on the speakers built into their hi-tech displays so it's no surprise that most owners feel an immediate need to improve sound quality. If simplicity, performance and unobtrusiveness are the priorities then the new Onkyo HTX-22HDX will tick all their boxes.
Elegant looking in gloss black and very compact this 2.1-channel HD audio system represents amazing value for money when you consider what's on offer. Comprising two satellite speakers and an active 50w subwoofer, the system incorporates a fully featured home cinema receiver, invisibly contained within the subwoofer.
But compactness certainly doesn't mean compromise – this package uses the very latest technologies to bring your favourite movies to life. Burr-Brown 192kHz/24-bit DACs are employed for all channels to ensure high fidelity resolution and there's a healthy 25w per channel output for the satellite speakers.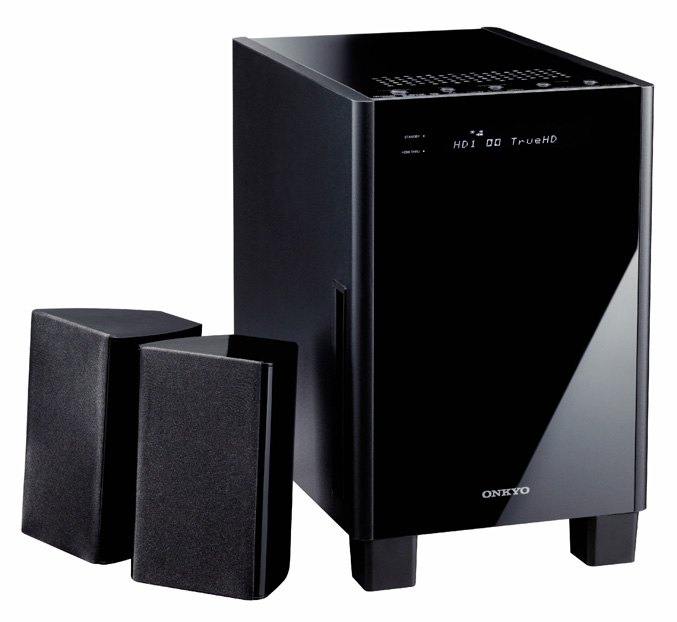 What's more the system packs three of the latest specification HDMI 1.4 inputs. As well as being fully-compatible with upcoming 3D video-capable displays and Blu-ray players these connections also incorporate an Audio Return Channel which allows digital audio to be sent from your HD TV back to the receiver – there's no need for an additional digital optical cable.
Naturally, the HDX-22HDX makes the most of the HD Audio soundtracks present on most modern Blu-ray discs… it decodes Dolby TruHD and DTS-HD Master Audio soundtracks to truly amazing effect. With four dedicated games modes onboard (Rock, Sports, Action and Role Playing Games) console owners are well catered for while music lovers will appreciate the new audio jitter-cleaning technology, designed to improve musicality.
An easy to read onscreen display menu, conveniently overlaid on top of the video image you're watching, makes adjusting settings a cinch. Connectivity includes 2 x optical and 1 x coaxial digital audio inputs and the facility to hook up one of Onkyo's award-winning iPod/iPhone docks.
As standard the system comes with two satellite speakers giving a convincing 2.1-channel surround sound effect. If you get bitten by the home cinema bug, however, and decide you want to upgrade to the full 5.1-channel experience there's a painless way of doing it with the HTX-22HDX.
Onkyo has futureproofed the unit by building in five-channels of amplification. To get 5.1 sound all you need to do is purchase the optional SKS-22X speaker package (comprising a centre and two surround speakers), hook them up and away you go… full 5.1 audio with minimal extra fuss.
Easy to use, easy to upgrade and easy to live with… the Onkyo HTX-22HDX really is a brilliant solution for instant HD home cinema sound in the home.
Source: Onkyo