Do you want a pair of earphones that are more comfortable and perform better compared to the stock headphones that come with your iPod purchase? Whle there are loads of choices out there, a few stand out (due to performance, price or even design, sometimes all three) with the iMuffs being one of them.
This pair of wireless earphones will 'talk' to your iPod once you connect the iMuffs Bluetooth transmitter to the iPod, and it can control both volume and playback on the headphones themselves without having you to finger the iPod in your pocket. Each pair of iMuffs retail for $129.99 and has a maximum playback time of 16 hours.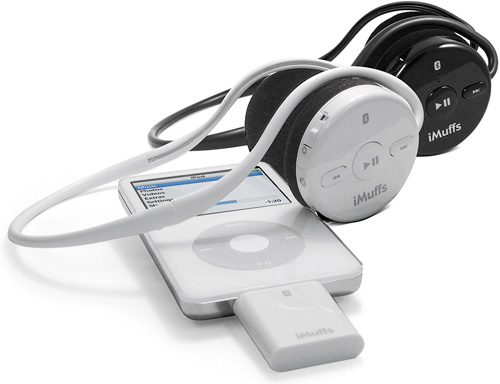 Product Specifications

Protocol

Bluetooth 2.0 A2DP, AVRCP, Handsfree, Headset

Frequency Band

2.4 GHz

Tx Power

Bluetooth Class 2

Range

30'+ (10m)

Audio Format

CD Quality (Sub-Band Codec)

Battery Life

Play Time: Up to 16 hours*

Battery

Rechargeable lithium polymer

Adaptor AC input

110-240V AC


* Battery life is subject to variation, and naturally fluctuates over time & usage.
Source: Uberguzmo