Yamaha, the innovator in home theater and digital audio and video reproduction, unveiled the YSP-5100 and YSP-4100, its highly-anticipated next generation of Digital Sound Projectors. Employing Yamaha's proprietary technology, both models deliver true surround sound from a single speaker by employing dozens of separate audio beam drivers that deliver center channel sound directly, while sounds from other channels are heard reflecting off the walls around the listener. These units, which are ideal for placement beneath the latest flat screen TV models, provide HD Audio decoding and four 1080p-compatible HDMI inputs along with proprietary technologies including UniVolume for keeping the sound of TV programs and commercials and different sources at the same volume level, and yAired for wireless iPod and iPhone audio playback.
The YSP-4100 features 40 beam drivers and two woofers, each with dedicated amplifiers. The YSP-5100 is identical, plus two tweeters with dedicated amplifiers. Both units bypass the need for a separate receiver or amplifier, or additional speakers, making them the ideal surround sound solutions for small spaces or second rooms in multi-zone systems. Both models, which are significantly thinner than previous Digital Sound Projector models (3 ½" depth), can be wall-mounted or placed on a shelf or rack.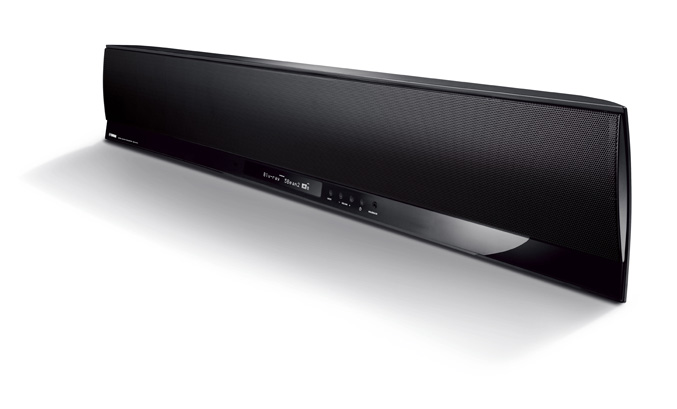 The YSP-4100 and YSP-5100 offer HD Audio decoding (Dolby TrueHD, DTS-HD Master Audio, Dolby Digital Plus and DTS HD High Resolution) to deliver the best possible sound from Blu-ray disc players and all other digital sources. Users can also choose from six listening modes (5 BeamPlus2 for 7.1 ch HD Audio, Stereo + 3 BeamPlus2, 5 Beam, Stereo + 3 Beam, 3 Beam and Stereo) to best suit their living spaces and content playing. Eleven Cinema DSP Modes (3 "movie," 3 "music" and 5 additional "entertainment" modes) offer even more options to further maximize the audio for any entertainment experience. The YSP-5100 and YSP-4100 have 1080p-compatible HDMI (4 in/ 1 out) that enable the connection of multiple HDMI sources and the full enjoyment of 1080p monitors, Blu-ray disc players and HDTV set top boxes. They also feature analog to HDMI digital video upconversion that improve video composite and component signals to HD quality. Yamaha's UniVolume feature maintains a consistent volume level between different channel, programs, commercials and input sources. For instance, when watching TV, the volume of commercials will not be louder than the program being viewed. The same is true when switching sources to watch a DVD or Blu-ray movie or to listen to music on CD. This is particularly helpful for late night watching and listening when spikes in volume can disturb others in the house or apartment building.
Stand-alone entertainment systems in their own right, both models have an integrated FM tuner and are fully Sirius Satellite Radio ready, broadening the user's listening choices. Yamaha's yAired technology allows users to wirelessly play audio from iPods and iPhones via the YSP-5100 and YSP-4100. By connecting a small transmitter (supplied with both YSP models) to an iPod or iPhone, users can take out their ear buds and share their favorite music, video and games with friends. This solution adds remote control capability to iPhones and iPods so users maintain direct access to what they want to hear. The yAired connected iPods/iPhones and YSP-5100/YSP-4100s automatically synchronize for powering on and off.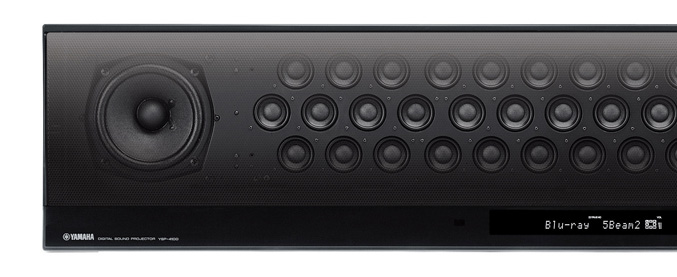 In addition to seamless wireless convenience, yAired technology offers key advantages over Bluetooth, including superior sound quality via uncompressed linear PCM audio transmission and no audio delay issues when watching video or playing games. Yamaha's proprietary Compressed Music Enhancer technology compensates for the lost detail of audio that is compressed during the "ripping" process to iPods and MP3 players, recapturing the essence of the original recording. Those opting to add low frequency punch to their systems with optional subwoofers are able to quickly connect them via a supplied accessory package (which includes a SWK-W10 wireless subwoofer kit and a YIT-W10 wireless transmitter). Through wireless integration, users have the freedom to place any model subwoofer anywhere in the room without unsightly wires getting in the way. Yamaha's exclusive IntelliBeam Automated System Calibration immediately readies the system to deliver optimum multi-channel sound reproduction with accurate image location by optimizing the level and frequency response of each beam. This is achieved via a microphone that monitors and analyzes a room's acoustics in less than three minutes. Both the YSP-5100 and YSP-4100 are Consumer Electronics Control (CEC) compatible. When either the YSP-5100 or YSP-4100 are connected to CEC-compatible TVs, they will power on and off together with the TV, and the TV remote can be used to control the Digital Sound Projector volume. With CEC active, signals will pass through the YSP-5100 and YSP-4100 even if they are powered off. Both models have RS-232C, IR pass through out and extended IR for custom installation functions and are sold with preset remote controls. The YSP-5100 ($2,199.95 MSRP) and YSP-4100 ($1,899.95 MSRP) will be available in January. Optional slim, space-saving stands for the new Digital Sound Projectors include tabletop pedestal (YTS-T500; $349.95 MSRP) and floor stand (YTS-F500; $549.95 MSRP) models which will also be available in January.
For more information, write Yamaha Electronics Corporation, P.O. Box 6660, Buena Park, CA 90620; telephone (714) 522-9105; email infostation@yamaha.com; or visit www.yamaha.com/hometheater.
Source: Yamaha