With its Samsung Smart Touch Control, Samsung upgrades its TV world. With touchpad, Edge and voice control, this controller will work with the entire Samsung 2012 range of smart TV units. Moreover, Samsung TVs, set-top box, and Blu-ray players will all work with this magic gadget.
The most apparent feature is the touchpad, which is taking up the top 2/5 of the device and allows you to move forward with the touch controls. Now you can change channels and adjust the volume with a simple swipe of the touchpad. And because this touchpad works as a mous, the on-screen browsing will be much easier.
By swiping your finger out to the edge, you will be able to access any of the four main control menus, thakns to the Ege User Interface. Color/playback, Tools, Hot Key, and History are the four control menus.
As long as you have all Samsung devices, you will be able to cut down the number of the control units that you need. Just one remote can rule them all. The Smart Touch Control can be programmed to work with all of your other home entertainment appliances.
The Samsung Smart Touch Control also has built-in microphone, so you can tell to your TV what to do. You can access your apps, switch channels, and navigate compatible services galore, because this system recognizes your voice and makes everything very simple and easy.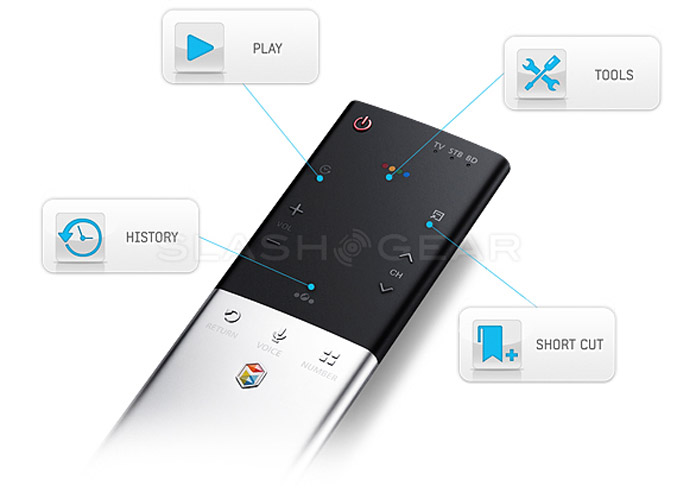 Source: slashgear