Blu-ray offers the potential for truly awesome high definition audio-video performance but to experience it at its best you really do need a top quality home entertainment system… a no compromise solution that can guarantee the ultimate in audio/video quality, under all conditions, whatever the room size. Onkyo is pleased to announce that it's launching just such a system at International CES 2010, Las Vegas.
Comprising three flagship components – Onkyo's new Profile 2.0-compliant BD-SP807 Blu-ray player, PA-MC5500 9-channel power amplifier and the PR-SC5507 A/V Network Controller – Onkyo's first THX-certified Blu-ray system has been conceived to achieve nothing short of cinematic excellence in the home.
Each of the above components has been rigorously tested by the sound and vision engineers at THX and found to meet (and exceed) the exacting standards they set for delivering the ultimate home cinema experience in large rooms.
That unqualified endorsement speaks volumes for the innate quality of this system. In cinephile terms praise simply doesn't come any higher…
BD-SP807 THX-certified Blu-ray player – New!
With Blu-ray now confirmed as the de facto media of choice for HiDef entertainment it'll come as no surprise that Onkyo has pulled out all the technological stops for this, its first THX-certified Profile 2.0 Blu-ray player.

Crafted to Onkyo's legendarily high standards the BD-SP807 delivers astonishingly realistic HD video quality, courtesy of a state-of-the-art 297Mhz/12-bit video DAC from Analog Devices (ADV7340). Featuring NSV (Noise Shaped Video) output this high-speed DAC renders detail in high-definition images with unparallelled precision and, to all intents, free of aliasing and noise.
If the owner wishes to perform video processing off-board (using the partnering Network Controller, for instance) they can take advantage of the HDMI Source Direct mode. This sends the original unprocessed video signal from the player via HDMI to a connected device for further processing downstream.

Most people still own large DVD libraries so Onkyo has included high quality 1080p upscaling to ensure owners get the best out of their existing movie collection. The Anchor Bay ABT1030 Video Reference Series chip that's fitted uses 10-bit processing to ensure pristine video conversion and scaling.
As you might expect audio quality is of a similarly high standard. There are 192kHz/24-bit DACs for all channels while bitstream output of Dolby TrueHD and DTS-HD Master Audio Essential soundtracks (via HDMI) allows the companion PR-SC5507 Network Controller to deliver HD surround sound of the highest order (7.1-channel analogue outputs are also provided for use with older non-HDMI equipped receivers/processors).
Of course, entertainment is the raison d'etre of the BD-SP807 but it goes far beyond merely watching movies. Thanks to its BD-Live functionality there's a host of additional interactive activities (disc dependent) that viewers can enjoy before, during and after movie watching. And with an SD card slot mounted on the fascia, downloaded movies, music and stills can expand the available entertainment options yet further.

Mixing analogue and digital signals in the same enclosure is a recipe for electromagnetic interference so, to provide the cleanest signals possible, all digital and analogue electronics are contained on independent and separate circuit blocks.
Finally, to ensure that all those cutting edge electronics are allowed to work at their considerable best, the player's innards are contained within an exceptionally strong, high-rigidity chassis. The player's drive mechanism is the most obvious internal source of internal vibration so it's been mounted low in the chassis, to reduce any adverse effects on performance.
PA-MC5500 THX Ultra 2-certified 9-channel amplifier – New!
Onkyo's mighty 26kg flagship power amplifier is sure to set any cinephile's heart fluttering, with a dazzling specification that puts it firmly into high-end territory. Benefitting from a host of exclusive amplifier technologies developed in-house by Onkyo the PA-MC5500 power amplifier is also the perfect partner for the PR-SC5507 Network Controller, having been developed in concert with it.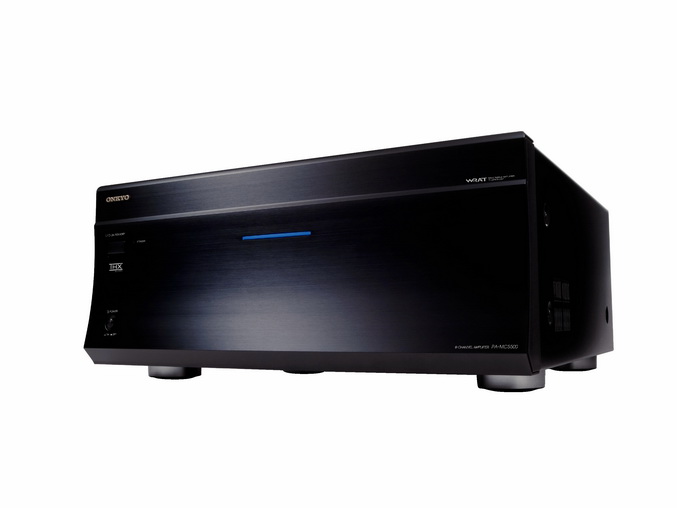 Why is it a good thing to separate the pre and power sections of an integrated home cinema receiver? Simple… an integrated product by definition, has to accommodate both digital and analogue signals within close proximity of one another, raising the spectre of noise interference. Separate those functions into separate enclosures and you immediately lessen that risk.
Onkyo has opted to eschew digital power amplification for an all-analogue configuration in the PA-MC5500, specifically because it wanted to achieve a full-bodied and audibly musical sound quality, something that's still far from a given in the home cinema world. Both balanced and non-balanced connections (via gold-plated XLRs) and solid brass RCAs, respectively) are provided but, for best performance, the former are highly recommended (happily, the PR-SC5507 has balanced outputs for all channels, allowing the use of long interconnects).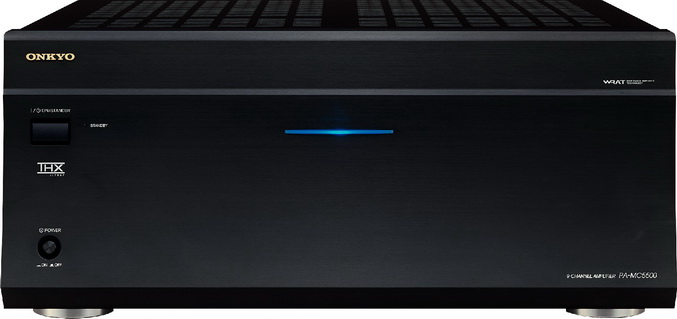 Each of the PA-MC5500's nine channels delivers a hefty 220w (into 6 ohms), more than enough to drive an ambitious home cinema loudspeaker system to realistically high levels – at full tilt the amplifier draws more than a kilowatt of power from the mains supply. As THX's engineers will happily attest the PA-MC5500 will easily deliver the goods in large rooms where viewers are sat more than 12 feet away from the viewing screen.
Based around a weighty steel-plate chassis that's designed to be as physically inert as possible, this amplifier boasts a huge toroidal power transformer, physically separated from the sensitive amplifier stages by a massive heatsink that runs the full width of the amp. In tandem with large capacity 22,000uf audio-tuned capacitors there's a guaranteed supply of consistent power on tap under all conditions.
Using a Push-Pull amplifier design with a 3-stage Inverted Darlington Stage (to minimise distortion) the PA-MC5500 uses Onkyo's famed WRAT (Wide Range Amplifier Technology), a basket of techniques developed over decades that have been proven to deliver high-fidelity cinema sound.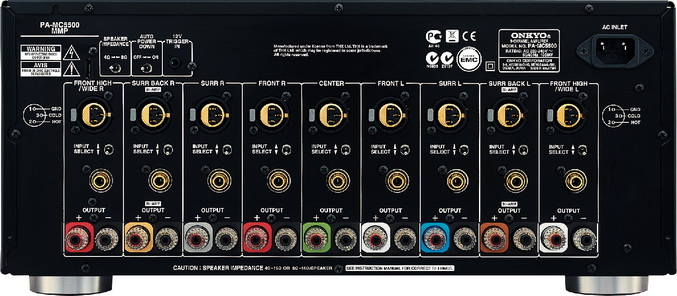 The use of a Low Negative Feedback design, for instance, endows the amplifier with an SACD-friendly frequency response that reaches out to 100kHz while HICC (High Instantaneous Current Capability) allows the PA-MC5500 to stay fully in control when there are speaker impedance fluctuations.
Carefully designed Closed Ground-Loop circuits and low-impedance copper bus plates ensure that circuit noise (created by varying ground potentials) is kept to an absolute minimum and that you hear what the director intended you to hear… and nothing else.
To further guarantee consistent performance, especially when dealing with two-channel music, PA-MC5500's power amplifier channels are designed as wholly separate modules that are identical electrically, structurally, physically and electromagnetically.
Short signal paths, symmetrically laid out power devices, and a fully Discrete Output Stage all play their part in helping the PA-MC5500 deliver ultra-clean high fidelity power to a home cinema's multi-channel loudspeaker array.
PR-SC5507 THX Ultra 2-certified 9.2-channel A/V Network Controller – launched Autumn 2009
In partnership with the new BD-SP807 and PA-MC5500, the PR-SC5507 forms the heart of one of the most formidable home cinema systems available to consumers. Potent doesn't begin to describe it…
As the name suggests full-blown audio networking is a key feature in the form of a DLNA (Digital Living Network Alliance) 1.5/Windows 7-compatible Network Capability that allows the PR-SC5507 to both replay streaming audio files and access popular Internet Radio services such as LastFM/vTuner (subject to availability).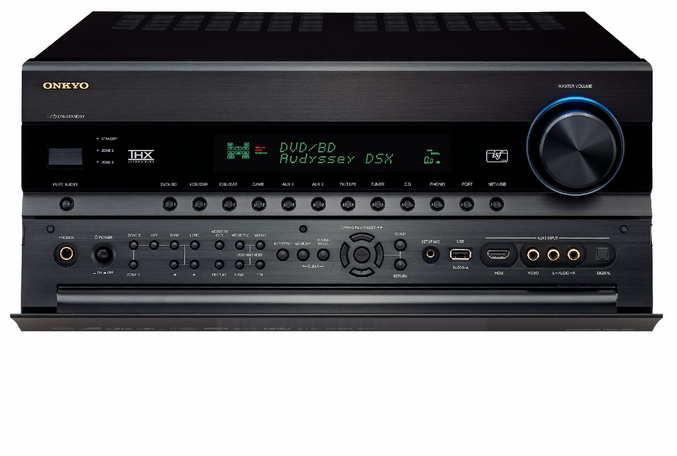 Naturally, this Controller also includes state of the art high definition audio and video processing circuits and extensive switching capabilities. The premium quality HQV Reon-VX chip provides studio-quality upscaling of all sources to 1080p over HDMI, and also provides analogue component video upscaling to 1080i.
There are seven HDMI, three component video, and six S-Video/composite inputs as well as two HDMI outputs to facilitate applications such as a multi-display system, or to allow for the use of set-up monitor in the same room as a projector.
On the fascia (under the drop-down panel) there's a USB input (for portable audio players) while another is situated at the rear. Naturally Onkyo's well-regarded RI (Remote Interactive) control protocol is included – allowing every Onkyo iPod dock made thus far to be partnered with the PR-SC5507 – but there's a new option too… U.Port (Universal Port).
This proprietary system is designed to enable the 'daisy-chained' connection of a host of new add-on modules, including new iPod docks and DAB tuners, via a single-cable that carries both signals and power.
On the audio side, the PR-SC5507 includes decoding and processing of every major home cinema audio format in use today including Dolby TrueHD and DTS-HD Master Audio – it'll cope with everything a cinephile can throw at it.
If you're interested in buying this Blu-ray system it's likely you'll be considering a pretty ambitious speaker system to go with it… if so the inclusion of Audyssey DSX processing will prove a tempting draw.
It almost goes without saying that this Controller incorporates state of the art digital technology… highly jitter-resistant, specially selected Burr-Brown 192kHz/32-bit DACS are employed for all channels while a trio of TI 'Aureus' 32-bit chips take care of DSP processing. If that wasn't enough Onkyo's engineers have implemented ultra-low jitter PLL (Phase Locked Loop) circuitry to reduce overall jitter levels even further.
With three transformers secreted inside – a main toroidal plus separate transformers for audio and video processing – there are no issues when it comes to ensuring that the technology within is properly powered. As explained previously, housing all the analogue power amplification separately in the PA-MC5500 means that there's one less possible source of interference, an entirely positive benefit in such a high-performance package.
The PR-SC5507 boasts class-leading multi-zone capabilities, including fixed and variable line-level outs plus subwoofer outputs for both Zones 2 and 3. Zone 2/3 also get both composite and HD-quality component video monitor outputs, as well as independent tone controls.
Individually the BD-SP807, PA-MC5500 and PR-SC5507 are statement products in their own right, setting new category standards for performance, flexibility and ease of use. Combined, however, they represent one of the most exciting, best bang-per-buck high-end home entertainment systems commercially available today. If you're genuinely serious about home cinema you simply have to investigate Onkyo's first THX-certified Blu-ray system…
Source: Onkyo