A-DATA Technology Co., Ltd., the worldwide leader in DRAM memory and Flash application products,  introduced its Speedy Series CF 533X memory card, unveiling a new affordable choice for professional and amateur photographers to significantly increase their cameras' read speed.
A-DATA Speedy CF 533X utilizes quad channel transfer mode and Ultra DMA 6 (UDMA) mode to achieve high read speed of up to 80MB/s, and high write speed of up to 50MB/s. By adopting wear-leverage technology, Speedy CF 533X holds a better and longer product life cycle. It also provides Error Correcting Code (ECC) function to detect and correct errors automatically. With capacity available in 16GB, 32 GB and 64GB, Speedy CF 533X kindly offers photographers various capacity options depending on personal usage and requirement. Users can store 12,000 high resolution photos in huge 64 GB capacity and no need worry about insufficient space. Following green design concept, Speedy CF 533X is in compliance with European RoHS directives supporting environmental sustainability.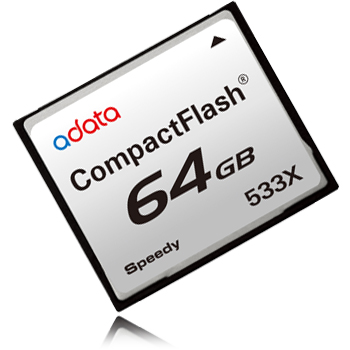 Highly reliable and low power consumption, Speedy CF 533X distinguishes itself from the other CF cards by offering both topnotch performance at a fair price, making it the most decent option for users with professional DSLR cameras.
Feature
Read/Write Speed: Up to 80MB/s and 50MB/s
Capacity: 16GB/32GB/64GB
Quad-channel support (Ultra DMA mode 0~6, IDE PIO mode 6, MDMA 0~4)
RoHS compliant
Specification
Dimensions: 42.8×36.4×33.0mm or 1.69×1.43×1.3inch (LxWxD)
Weight: 11.4g (0.40oz)
Operating temperature: 0℃~70℃
Storage temperature: -25℃~85℃
Source: A-DATA