Kingston releases 16GB microSDHC Class 10 high-capacity card with the SD Association Specification 3.00, which has a minimum data transfer rate of 10MB/sec. and ships either as a stand-alone microSDHC card or with adapters.
"With the new speed class, host devices such as high-definition cameras or the latest smartphones are being designed to optimize their write performance to take advantage of the more responsive memory card speeds," said Wendy Lecot, Flash card business manager, Kingston. "Now that the Class 10 card specification is five times faster than a Class 2 card, users will see swifter copying and transferring of photos, music, videos and e-books when using a multi-format card reader such as the Kingston Media Reader or MobileLiteG2 with a PC.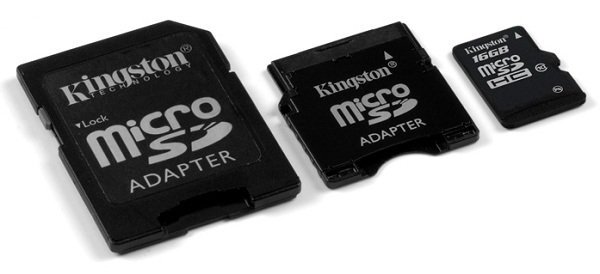 Kingston also propose SD adapter pack (Kingston part #: SDC10/16GB), and the SD and miniSD adapter pack (Kingston part #: SDC10/16GB-2ADP).
Kingston 16GB microSDHC Class 10 Features and Specifications:
Compliant: with the SD Specification Version 3.00
Versatile: when combined with an adapter, can be used as a full-size SDHC card with write protection or as a miniSDHC card to transfer data
Compatible: with microSDHC, miniSDHC and SDHC host devices; not compatible with standard microSD-enabled device/readers
File Format: FAT32
Reliable: lifetime warranty
Capacities*: 16GB
Dimensions: 0.43″ x 0.59″ x 0.039″ (11mm x 15mm x 1mm)
High-Speed Class Rating: Class 10 – 10MB/sec. minimum data transfer rate
Operating Temperature: -13°F to 185°F (-25°C to 85°C)
Storage Temperature: -40°F to 185°F (-40°C to 85°C)
Kingston SDC10/16GBSP 16GB microSDHC Class 10 single pack  (card only) $138.00
Kingston SDC10/16GB 16GB microSDHC Class 10 card  with SD adapter $139.00
Kingston SDC10/16GB-2ADP 16GB microSDHC Class 10 card with two adapter pack (miniSD & SD adapter) $140.00