GoPro's HD HERO video camera is well known, so the extreme sports enthusiasts will be glad to hear that the company today announced the successor of its famous compact camera, called HD HERO 2.
GoPro claims that the new one is "twice as powerful" as  the original HD HERO camera and has received several technology upgrades. The HD HERO 2 is equipped with 11Megapixel sensor with enhanced low light capture capabilities, paired with redesigned wide-angle lens that's "twice as sharp as the previous model." The camera is capable to capture 1080p 16:9 videos with Narrow 90-degree,  Medium 127º, and Full 170-degree field of view, 120 fps WVGA or 720p@60 fps, Full 170 and Medium 127º FOV Photos, and up to ten 11 megapixel photos per second.
The camera comes also with redesigned, language-based user interface, has a new mini-HDMI port, along with 3.5mm microphone input, A/V and mini USB connection and a SD card slot.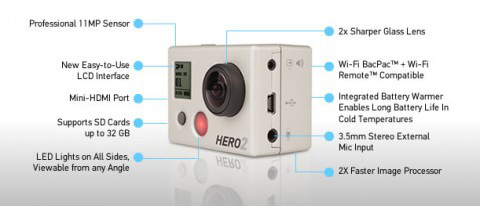 The new HD HERO2 is compatible with all existing GoPro mounts and accessories and the company also announced a new Wi-Fi BacPac add-on, that will allow you to connect up to 50 GoPro HD Hero2 cameras wirelessly and will enable playback and control via GoPro app for smartphones, laptops andtablets , as well as live streaming to the web.
The HD Hero2 is available in three variants, each containing the necessary mounts for particular genres of use or activity –  outdoor edition, motorsports, and surf editions, each for the price of $299.99. As for the original  HD HERO camera, it is now available for $199.99.