Panasonic Solutions Company showcased its new AG-3DA1, the world's first professional quality, fully-integrated Full HD 3D camcorder offering SD media card recording. Panasonic is offering video professionals the opportunity to reserve their AG-3DA1 camcorder (list price: $21,000) by placing a non-refundable $1,000 deposit with Panasonic. Details of the program and sales contact information are now available by calling (201) 348-5300 or e-mailing pbtsinfo@us.panasonic.com.
Panasonic booth (#C3712) visitors will be able to view 3D video content shot with the 3DA1 during show hours. Also on display will be Panasonic's recently announced BT-3DL2550, a 25" professional-quality 3D LCD monitor for field use, and the AG-HMX100, a professional HD digital AV mixer for live 3D event production.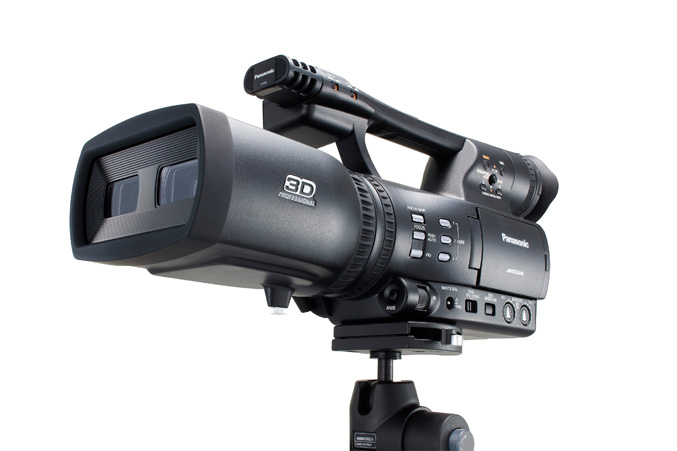 At less than 6.6 pounds, the AG-3DA1 is equipped with dual lenses and two 1/4.1-inch full 1920 x 1080 2.07-megapixel 3-MOS imagers to record 1080/60i, 50i, 30p, 25p and 24p (native) and 720/60p and 50p in AVCHD. It can record for up to 180 minutes on dual 32GB SD cards in Panasonic's professional AVCHD PH mode, and offers professional interfaces including dual HD-SDI out, HDMI (version 1.4), two XLR connectors, built-in stereo microphone and twin-lens camera remotes. It is also equipped with remote terminal for focus iris, zoom, REC start/stop and convergence point. Its 3.2-inch LCD screen provides the option to switch from Left, Right or overlay image display.
The AG-3DA1 3D Professional camcorder will offer the following core benefits:
Easier to Use
Current 3D systems are large-scale setups in which two cameras are fitted to a rig in parallel, or vertically intersect across a half-mirror. Separate recorders are also required. In the AG-3DA1, the lenses, camera head, and a dual Memory Card recorder are integrated into a single, lightweight body. The camcorder also incorporates stereoscopic adjustment controls making it easier to use and operate.
The twin-lens system adopted in the camcorder's optical section allows the convergence point to be adjusted. Functions for automatically correcting horizontal and vertical displacement are also provided. Conventional 3D camera systems require these adjustments to be made by means of a PC or an external video processor. This new camcorder, however, will automatically recalibrate without any need for external equipment, allowing immediate 3D image capture.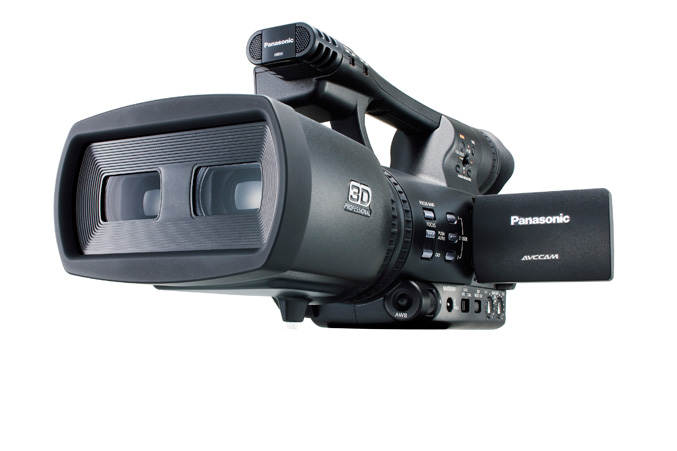 More Flexible
The solid-state memory file-based recording system offers greater flexibility to produce Full HD 3D videos reliably in more challenging shooting environments. The AG-3DA1 is lighter weight and smaller than current 3D rigs, while providing the flexibility of handheld-style shooting. Setup and transportation is simplified, making it ideal for sports, documentary and filmmaking projects.
Solid-State Reliability and Workflow
Right and Left Full HD video streams of the twin-lens 3D camcorder can be recorded and distributed as files on SDHC/SD Memory Cards, ensuring higher reliability than tape, optical disc, HDD or other mechanical-based recording systems. This solid-state, no-moving-parts design will help significantly reduce maintenance costs.
Users will enjoy a fast, highly-productive file-based workflow, with instant, random access to recorded content; easy plug-in to both Mac and PC-based platforms; and longer recording capacity.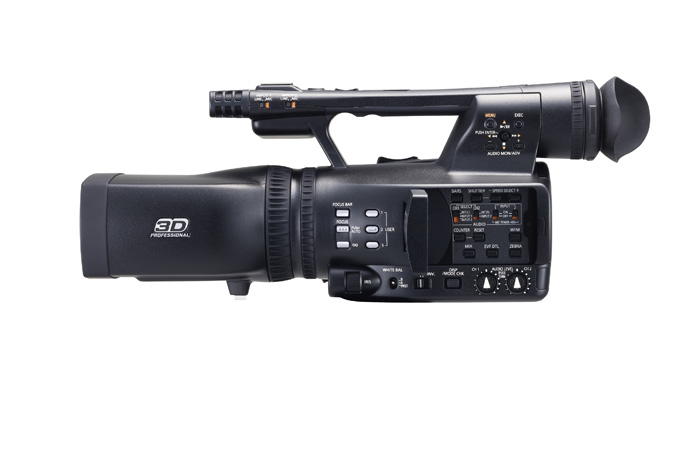 More Affordable
Using a standardized, fully integrated design, the AG-3DA1 is being offered at a much lower price than traditional 3D rigs. Transportation expenses for this handheld unit will be less and faster setup times reduce labor costs. Using standard, re-recordable SDHC/SD Memory Cards available already everywhere, media costs become almost insignificant.
In addition to the AG-3DA1, Panasonic's BT-LH2550 3D LCD monitor and AG-HMX100 A/V mixer with 3D support allow video professionals to efficiently create 3D content, so consumers can enjoy 3D video using Panasonic 3D home theater systems.
AG-3DA1's Major Specifications:
Twin-lens Full HD 3D camcorder
Suggested Retail Price for Main Unit: $21,000
Available: Fall 2010 (made to order)
Power Consumption: 16 W (main unit only)
Weight: Approximately 6.17 pounds (2.8 kg) — main unit only
Recording Media: SDHC/SD Memory Card
Source: Panasonic