Sanyo VPC-PD2BK Pocket-Size Dual Camera offer Full HD for 169.99

Sanyo comes up with a new Dual Camera offer,  capable to record 1920 x 1080 30p movies, but with a size of a cell phone. The new Sanyo's Pocket-Size VPC-PD2BK camera offers 10 MP photo shooting and 3x optical zoom at affordable price – $169.99.
The Sanyo Dual Camera PD2 has measures of 2.48(W) x 0.87(D) x 4.36(H) in and weights only 3.7oz, has a built-in USB connector, which enables the camera to be connected to a PC,  without the need of cables or to be recharged its lithium-ion battery. It can record in  MPEG4/H.264 format on supported SD, SDHC and SDXC memory cards, it also pack a built-in speaker, 37-mm wide-angle lens and mini HDMI port. The camera has a separate photo and video recording buttons, that allow images to be captured easily without changing modes. The compact camera also comes with embedded software for sharing videos and photos to social media websites like Facebook, YouTube and Picassa using the Simple Uploader.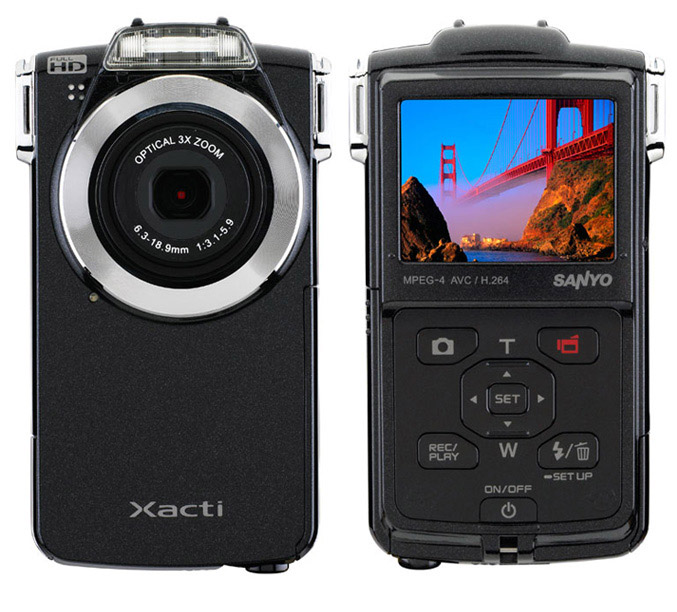 Main Features: VPC-PD2BK
Full-HD 1080, 30p Video (1920×1080)
10 Megapixel Digital Photos
Embedded Software for Sharing Videos/Photos
2" TFT LCD Monitor for HD Playback
3x Optical Zoom Photo
Wide Angle Lens Range Video: 36mm – 108mm
Wide Angle Lens Range Photos: 37mm – 111mm
High Speed Sequential Shooting Mode
Digital Image Stabilizer (Photos and Video)
Face Detection (Photos and Video)
Target a Color Function
MPEG-4 AVC/H.264 High Compression Technology
48KHz, 16 bit, AAC Stereo Sound Recording
Built-In Stereo Microphone with Built-In Speaker
Mini HDMI Digital Interface
Built-In Direct USB Connector
USB Extension Cable included
SD/SDHC/SDXC Memory Card Compatible