Casio also unveils today the world's first digital camera with Hybrid GPS system, which combines GPS with autonomic positioning and enables geotagging of photos and videos even while you are indoors.
The heart of EX-H20G is a 14.1 megapixel sensor, supported by the new EXILIM Engine HS, the camera is capable to shoot 720p HD videos, has a 10x 10x (24-240mm) zoom lens, an ISO sensitivity range of 80 to 3200, built-in CCD-shift image stabilization and 3-inch, 460K LCD (960 x 480) display, as well various useful functions for traveling such as Panorama Photo mode(take 360-degree photos), auto-time adjustment which will automatically synchronize the camera's date and time with that of the user's current location and time zone.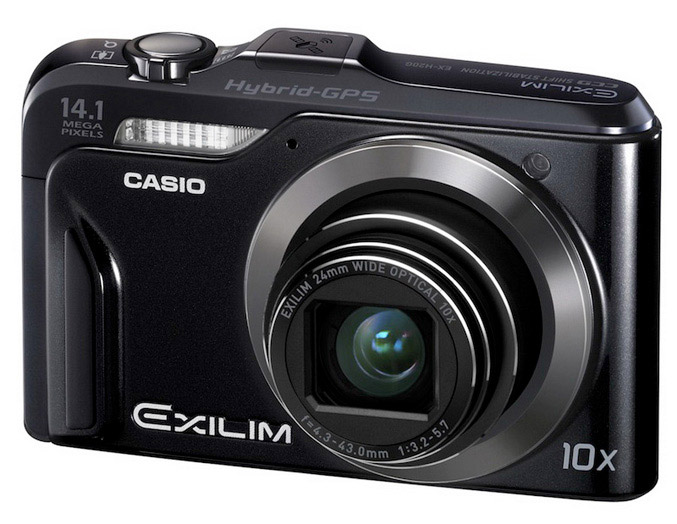 The camera's Hybrid GPS system combines a GPS engine with autonomic positioning made possible by a motion sensor. When you're indoor or lost the signal from GPS satellites,  the system consecutively tracks the user's location "by employing an original algorithm" utilizing a three-way accelerometer and a three-way direction sensor,  and when you get a new GPS signal, the system automatically updates the positional information of the indoor location, moreover even when the camera is powered off, the GPS system continues to search for satellite signals at 10 minute intervals, allowing it to immediately track location data at any time and any place.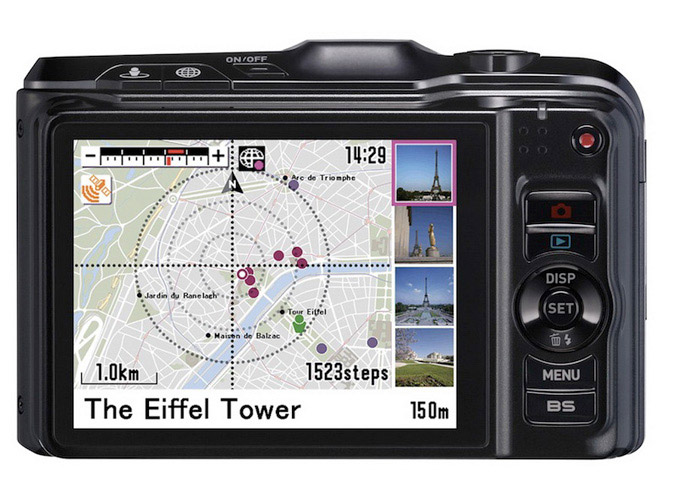 Casio also include a world atlas data with detailed maps of 140 world cities, allowing you to track your current position on the maps, which makes the camera perfect for traveling. The camera also has a USB, mini HDMI connectors, and a rechargeable Lithium Ion battery and will be available November 2010 for $349.99.
Functions useful for traveling:
User's location and photos and movies taken are displayed on a map
Photos are saved with the location information, including longitude and latitude, shooting direction, and place names
About 10,000 photos of popular sightseeing spots around the world are included in the internal memory
Users can leverage the camera's digital compass and map to determine the most appropriate route
A location name database with approximately one million items is included , enabling the camera to display the name of the shooting location on the screen
Location name and other data can be embedded in the photo when taken
H.264 video format grants longer recording time for 720p HD Movies
Travel memories can be reproduced vividly on a large-screen TV in a slideshow with a map using an HDMI terminal