Back in March 2012 Fujifilm unveiled the FinePix XP150 – a robust camera designed for tough conditions and capable of surviving in challenging environments.
Apparently having designed something better the Japanese company has unveiled the successor of the FinePix XP150 – the FinePix XP170 digital camera – that also belongs to the "tough" camera class. Not surprisingly the camera can be used underwater and can be dropped with no consequences whatsoever.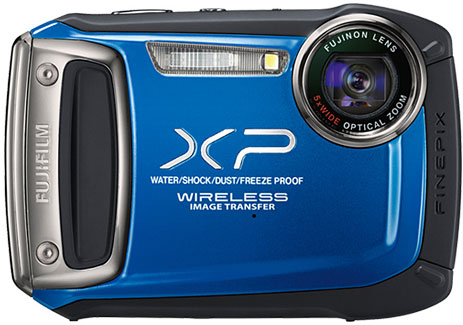 "The solid build, rubberized coating and riveted metal handgrip make this the toughest FinePix yet!," Fujifilm boasts. "Underwater photographers can dive twice as deep with a FinePix XP170, compared to the FinePix XP150, which means they can keep shooting to depths of 10 m. Walkers, bikers and extreme sports enthusiasts will be assured that the FinePix XP170 can survive the drops and knocks. If you like to take pictures of skiing, snowboarding or any other sub-zero activities, the FinePix XP170 will keep functioning all the way down to -10°C. Plus the camera is dust and sand proof, meaning you can take pictures at your favorite beach or when tackling the great outdoor wilderness, you don't have to worry about the sand clogging up the camera.", Fujifilm says.
Specs-wise the camera sports a 14.4 MP CMOS sensor, 5x optical zoom (28-140 mm equivalent to a 35 mm camera) with water repellent coating, Wireless Image Transfer technology (for any Android smartphone/tablet or iPhone/iPad), Full HD movie capture and underwater movie mode, a 2.7-inch LCD with anti-reflective coating, and more.
The Fujifilm FinePix XP170 is expected on the market next month with MSRP of 280 USD.
Source: Hot Hardware