Olympus Imaging Corporation is pleased to announce the µTOUGH-8010 compact digital camera that incorporates all of our most powerful "toughness" features. Waterproof to a depth of 10 metres, shockproof*2 against falls from as high as 2 metres, and freezeproof*3 at temperatures as low as -10°C. In addition, the forces applied to the surface of the body were thoroughly analyzed to achieve a resistance to loads up to 100kgf*4. This camera boasts a stylish design, outstanding imaging performance. Release is scheduled end of February 2010.
Main Features
1. No.1 for toughness! with its new "Double waterproofing","5x wide zoom", "DUAL IS*5" & "HyperCrystal III for Tough Series" LCD
2. HD movie (MPEG-4 AVC / H.264) recording on SD/SDHC card
3. Large-capacity 2 GB built-in memory*6 with photo-surfing capability using new [ib] PC software*7
Olympus's µTOUGH Series of compact digital cameras feature a waterproof, shockproof and freezeproof design that assures reliable, high-quality shooting under conditions that ordinary cameras would be unable to endure, such as underwater or in cold winter conditions. From the tranquil to the turbulent, whatever the conditions, whatever the situation, this camera assures great results, giving users the opportunity to expand their enjoyment of photography.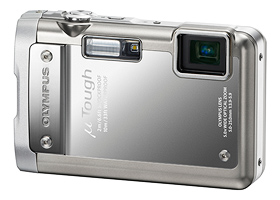 The new µTOUGH-8010 inherits the proven super-tough structure of its predecessor — it's waterproof*1 to a depth of 10 metres, dustproof*8 to keep out sand and dirt, shockproof*2 against drop impacts from as high as 2 metres, freezeproof*3 at temperatures as low as -10°C and crushproof loads up to 100kgf*4. But behind its tough exterior, this new digital camera is surprisingly sophisticated, now offering the outstanding imaging power of a 14-megapixel CCD*9 as well as powerful 5x zoom and high performance "DUAL IS"*5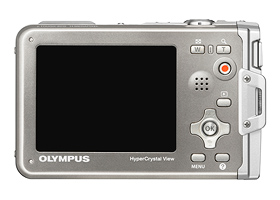 Basic Performance
Effective pixels 14 megapixels
Optical zoom 5X
Wide-angle shooting 28mm (35mm camera equivalent)
Image stabilization DUAL IS (CCD-shift image stabilization & High-sensitivity shooting)*9
LCD size 2.7-inch, 230,000 dots
LCD type HyperCrystal III for Tough Series
Movie recording HD movie (MPEG-4 AVC/H.264)
Other Features
Shadow Adjustment Technology that detects faces of subjects and optimizes focus and exposure accordingly
Magic Filter effects for creative imaging and Beauty Mode to touch up human faces for more attractive results*14
Scene Modes for one-touch shooting adjustment in difficult environments as well as in standard conditions
HDMI output control for operations including picture selection and frame-by-frame advancement using a TV's remote control*15 *16
Face Detection AF with which the camera detects and focuses on human faces automatically
iAUTO function that analyzes the current composition and optimizes camera settings automatically
In-body panorama composition function that lets you shoot a panorama picture by simply panning the camera as guided
USB battery charging enables the camera battery to be recharged from a PC while automatically storing and organizing recorded data in the PC
AF Tracking to keep a moving subject in focus by tracking it automatically
Compatible media: SD/SDHC memory card
Lens barrier: Only Olympus gives you a Tough camera with a retracting metal barrier.
Double-lock mechanism: New Sliding lock secures a lid not to open easily.
Monometer
MACRO LED
Underwater scene modes
TAP CONTROL
*1 JIS/IEC protection class 8 (IPX8) equivalent (our in-house test condition).
*2 Under Olympus in-house test condition.
*3 Number of recordable pictures is reduced in low temperatures.
*4 Kilogram-force is the unit for measuring force extended on a body. Under Olympus test condition.
*5 The image stabilization effect varies depending on shooting conditions.
*6 The area available to the user is 1.6GB (including Software and Manual).
*7 Compatible with Windows OS only.
*8 JIS/IEC protection class (IP6X) equivalent (our in-house test condition).
*9 Number of effective pixels.
Source: Olympus