Sony this morning unveiled two new cameras from its Alpha family, the α65 (SLT-A65) and α77 (SLT-A77) models which are equipped with 24.3 megapixel Exmor APS CMOS Sensor and the latest revision of Sony's BIONZ image processing engine.
Both interchangeable lens cameras make use of the company's translucent mirror technology and according to Sony have world's fastest 12 fps AF-enabled continuous shooting. They are packed with OLED electronic viewfinders with the impressive 2359k dot (1024 x 768) resolution with 100% frame coverage, a newly-developed 19-point autofocus system with 11 cross sensors (α65: 15-point AF with 3 cross sensors) and are capable of Quick AF Full HD video capturing in AVCHD format with addition of manual focusing and P/A/S/M exposure modes.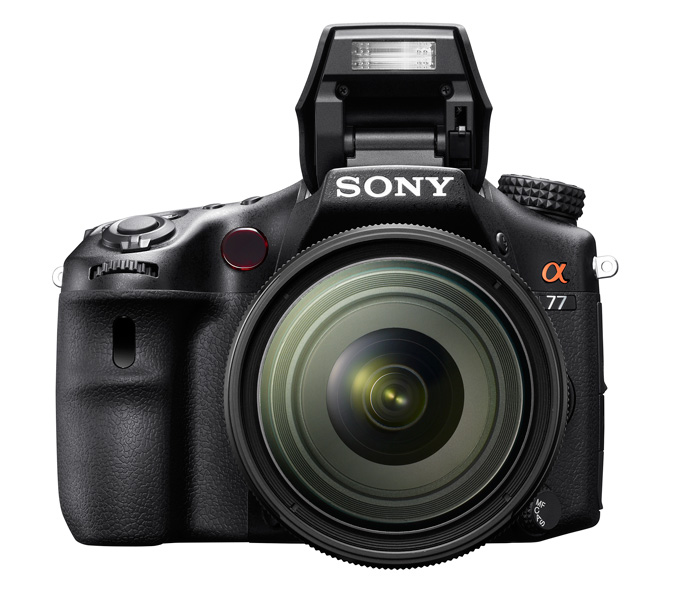 The SLT-A77 model is the successor of the company's A700 DSLR and offers several improvements. It has durable body with magnesium alloy panels and double control dials for intuitive fingertip operation and a separate top-mounted LCD data display. Along with the XGA-resolution OLED viewfinder, the camera also has three-way adjustable 3.0-inch LCD with a 921k-dot resolution. A broad sensitivity range of ISO 100-16000 is expandable (α77 only) down to ISO 50. There's also built-in GPS  for automatic geotagging. Sony SLT-A77 will be available from October for $1,400 (body only).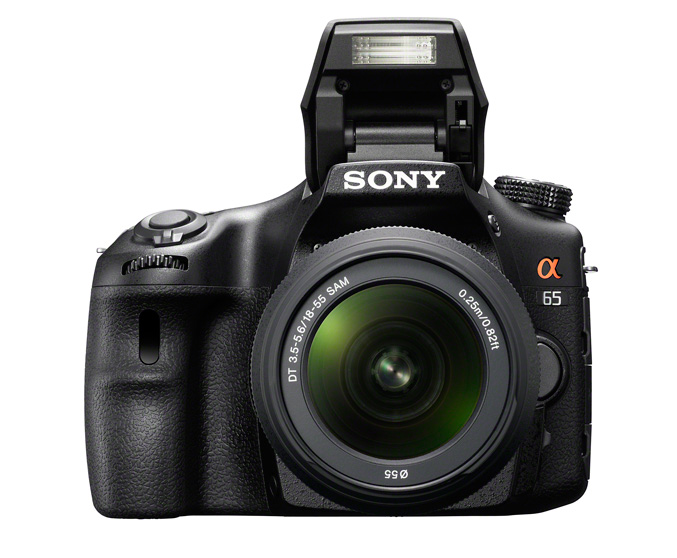 The cheaper, consumer-level DSLR model Alpha A65 offer many of the same features like the the A77 with some downgrades,the AF use 15 points, the continuous shooting rate is slower at 10 fps full resolution, an ISO range of 100-16,000, object tracking autofocus and only 2-way adjust LCD. It will cost you around $900 in October.
Technical specifications
Key Features

SLT-A77

SLT-A65

Type

Interchangeable lens digital camera with built-in flash

Interchangeable lens digital camera with built-in flash

Lens Compatibility

Sony A-mount lenses. Operation also confirmed with Minolta and Konica Minolta AF lenses

Sony A-mount lenses. Operation also confirmed with Minolta and Konica Minolta AF lenses

Image Sensor

APS-C type (23.5 x15.6 mm), Exmor APS HD CMOS sensor with RGB primary colour filters

APS-C type (23.5 x15.6 mm), Exmor APS HD CMOS sensor with RGB primary colour filters

Processor

BIONZ™ image processor

BIONZ™ image processor

ISO Sensitivity Range

AUTO (ISO 100 – 1600, ISO 100-12800 selectable with upper or lower limit), ISO 100 – 16000 selectable (expandable to ISO 50), Multi Frame NR (extendable up to ISO 25600)

AUTO (ISO 100 – 1600), ISO 100 – 16000 selectable, Multi Frame NR (extendable up to ISO 25600)

Image Quality Modes

RAW, RAW&JPEG, JPEG Fine, JPEG Standard, JPEG Extra Fine

RAW, RAW&JPEG, JPEG Fine, JPEG Standard

HDMI Connector and BRAVIA Sync

HDMI mini connector (Type-C), BRAVIA Sync (link menu), PhotoTV HD, DVDirect compatible

HDMI mini connector (Type-C), BRAVIA Sync (link menu), PhotoTV HD, DVDirect compatible

Image Size: 3:2 (pixels)

L size: 6000 x 4000 (24M)

M size: 4240 x 2843 (12M)

S size: 3008 x 2000 (6M)

L size: 6000 x 4000 (24M)

M size: 4240 x 2843 (12M)

S size: 3008 x 2000 (6M)

HD movie record

Recording format: AVCHD 2.0 / MP4

Video compression: MPEG-4 AVC (H.264)

Image size (pixels) (PAL): AVCHD: 1980×1080 (50p / 28M / PS, 50i / 24M / FX, 50i / 17M/FH, 25p / 24M / FX, 25p / 17M / FH), MP4: 1440×1080 (25fps / 12M), VGA: 640×480 (25fps / 3M)

Recording format: AVCHD 2.0 / MP4

Video compression: MPEG-4 AVC (H.264)

Image size (pixels) (PAL): AVCHD: 1980×1080 (50p / 28M / PS, 50i / 24M / FX, 50i / 17M/FH, 25p / 24M / FX, 25p / 17M / FH), MP4: 1440×1080 (25fps / 12M), VGA: 640×480 (25fps / 3M)

Electronic Viewfinder

XGA OLED, 1.3 cm (0.5 type) electronic viewfinder (2,359,296 dots effective resolution), with 100% frame coverage, five display modes and grid line display modes.

XGA OLED, 1.3 cm (0.5 type) electronic viewfinder (2,359,296 dots effective resolution), with 100% frame coverage, five display modes and grid line display modes.

LCD

7.5 cm (3.0-type) wide type TFT, Xtra Fine LCD with TruBlack technology: with 921k dot resolution

7.5 cm (3.0-type) wide type TFT, Xtra Fine LCD with TruBlack technology: with 921k dot resolution

SteadyShot™ INSIDE

YES

YES

Anti-dust System

Charge protection coating on low-pass filter and image-sensor shift mechanism

Charge protection coating on low-pass filter and image-sensor shift mechanism

Focus Modes

AF/MF selectable.

AF modes: Single-shot AF, Automatic AF, Continuous AF

AF/MF selectable.

AF modes: Single-shot AF, Automatic AF, Continuous AF

Autofocus System

TTL 19-point phase detection AF system with 11 cross sensors

TTL 15-point phase detection AF system with 3 cross sensors

Exposure Modes

AUTO, AUTO Advanced (AUTO+), Scene Selection, Sweep Panorama, 3D Sweep Panorama, Continuous Advance Priority AE, Movie, Programmed AE (P), Aperture priority (A), Shutter-speed priority (S), Manual (M)

AUTO, AUTO Advanced (AUTO+), Scene Selection, Sweep Panorama, 3D Sweep Panorama, Continuous Advance Priority AE, Movie, Programmed AE (P), Aperture priority (A), Shutter-speed priority (S), Manual (M)

Exposure Metering System

1200-zone evaluative metering

1200-zone evaluative metering

Exposure Metering Modes

Multi-segment, Centre-weighted, Spot

Multi-segment, Centre-weighted, Spot

Scene Selection

Portrait, Landscape, Macro, Sports Action, Sunset, Night Portrait, Night View, Hand-held Twilight

Portrait, Landscape, Macro, Sports Action, Sunset, Night Portrait, Night View, Hand-held Twilight

Picture Effect

11 modes (15 effects): Posterization (Colour, B/W), Pop Colour, Retro Photo, Partial Colour (R,G,B,Y), High Contrast Monochrome, Toy Camera, Soft High-key, Soft Focus, HDR Painting, Rich-tone Monochrome, Miniature

11 modes (15 effects): Posterization (Colour, B/W), Pop Colour, Retro Photo, Partial Colour (R,G,B,Y), High Contrast Monochrome, Toy Camera, Soft High-key, Soft Focus, HDR Painting, Rich-tone Monochrome, Miniature

Creative Style Settings

Standard, Vivid, Neutral, Clear, Deep, Light, Portrait , Landscape, Sunset, Night Scene, Autumn leaves, Black & White, Sepia

[Contrast (-3 to +3steps), Saturation(-3 to +3steps), Sharpness(-3 to +3steps)]

Standard, Vivid, Portrait , Landscape, Sunset, Black & White

[Contrast (-3 to +3steps), Saturation(-3 to +3steps), Sharpness(-3 to +3steps)]

Sweep Panorama

YES (2D and 3D)

YES (2D and 3D)

Auto HDR

YES (available in P/A/S/M modes)

YES (available in P/A/S/M modes)

Shutter Speed

1/8000-30sec, Bulb

1/4000-30sec, Bulb

Exposure Bracketing

1/3 EV, 1/2 EV, 2/3 EV, 2.0 EV, 3.0 EV increments, 3 or 5 frames (2.0 EV, 3.0 EV: only 3 frames)

1/3EV, 2/3EV increments, 3frames

White Balance Settings

Auto WB, Daylight, Shade, Cloudy, Incandescent, Fluorescent(Warm white/Cool White/Day white/Daylight), Flash, C. Temp 2500 to 9900K, C Filter G7 to M7, 15-step, Custom, AWB micro adjustment

Auto WB, Daylight, Shade, Cloudy, Incandescent, Fluorescent(Warm white/Cool White/Day white/Daylight), Flash, C. Temp 2500 to 9900K, C Filter G7 to M7, 15-step, Custom, AWB micro adjustment

Continuous Advance Shooting

Continuous Advance Priority AE: Maximum 12 images per second

Continuous shooting: Hi: Maximum 8 frames per second / Lo: Maximum 3 frames per second

Max. continuous shots:

Continuous Advance Priority AE mode: Extra fine: 13 images, Fine: 17 images, Standard: 17 images, RAW & JPEG: 11images, RAW: 13images

Continuous shooting: Extra fine: 13 images, Fine: 18 images, Standard: 18 images, RAW & JPEG: 11 images, RAW: 13 images

Continuous Advance Priority AE: Maximum 10 images per second

Continuous shooting: Hi: Maximum 8 frames per second / Lo: Maximum 3 frames per second

Continuous Advance Priority AE mode: Fine: 17 images, Standard: 18 images, RAW & JPEG: 11 images, RAW: 13 images

Continuous shooting: Fine: 17 images, Standard: 18 images, RAW & JPEG: 11 images, RAW: 13 images

Approx. no. of Shots

Approx. 470 shots with Tru-Finder, approx. 530 shots with LCD monitor (CIPA standard)

Approx. 510 shots with Tru-Finder, approx. 560 shots with LCD monitor (CIPA standard)

Built-in Flash

Auto pop-up, GN12 (in metres at ISO 100), FOV coverage up to 16mm

Auto pop-up, GN10 (in metres at ISO 100), FOV coverage up to 18mm

Flash Modes

Flash off, Autoflash, Fill-flash, Slow Sync., Rear Sync., Red-eye reduction (on/off selectable for Autoflash and Fill-flash mode), Wireless*, Hi-Speed Sync.*

* With external Flash HVL-F58AM, HVL-F56AM, HVL-F43AM, HVL-F42AM, HVL-F36AM

Flash control (ADI flash/ Pre-flash TTL / Manual flash)

Flash off, Autoflash, Fill-flash, Slow Sync., Rear Sync., Red-eye reduction (on/off selectable for Autoflash and Fill-flash mode), Wireless*, Hi-Speed Sync.*

* With external Flash HVL-F58AM, HVL-F56AM, HVL-F43AM, HVL-F42AM, HVL-F36AM

Flash control (ADI flash/ Pre-flash TTL)

Media

Memory Stick PRO Duo / Memory Stick PRO-HG Duo; SD / SDHC (UHS-1 Compliant) / SDXC (UHS-1 Compliant) memory card

Memory Stick PRO Duo / Memory Stick PRO-HG Duo; SD / SDHC / SDXC memory card

Dimensions (WxHxD)

Approx. 142.6 mm × 104.0 mm × 80.9 mm

Approx. 132.1 mm × 97.5 mm × 80.7 mm

Weight

Approx. 653g (body only)

Approx. 732g (with battery and Memory Stick PRO Duo)

Approx. 543g (body only)

Approx. 622g (with battery and Memory Stick PRO Duo)

Source: Sony