Nikon Corporation is pleased to announce the newest addition to its family of quality DX-format digital SLRs, the D3000. Combining in-camera assistance and supreme ease-of-use with Nikon's renowned technology, the D3000 is the ideal choice for people looking to upgrade from their point-and-shoot camera to a digital SLR.
The D3000 features a new Guide mode — a hassle-free way for less-experienced picture-takers to master the capabilities of digital SLR cameras. Through its intuitive user-friendly interface, Guide mode assists users in choosing shooting modes for a variety of situations and, if they choose, in exploring advanced photographic techniques. From close-ups and landscapes to portraits with soft backgrounds and picture-taking opportunities of fast-moving action, Guide mode eases users into the world of digital SLR photography. In addition, settings made with Guide mode can even be fine-tuned before the shot in order to achieve the best possible photos.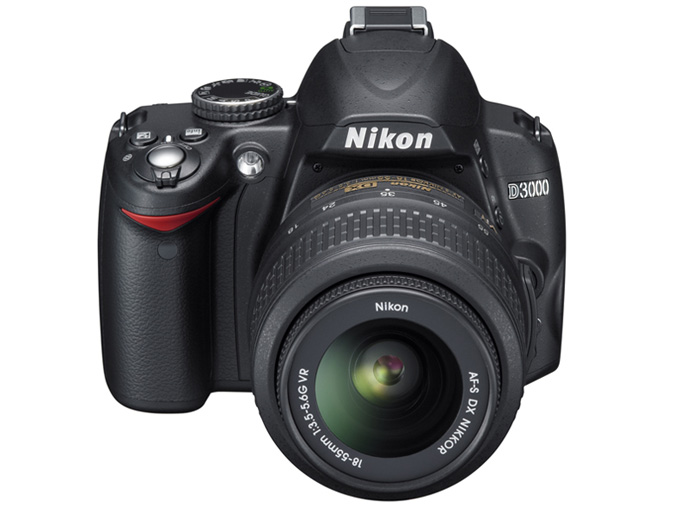 Despite its simple interface, the D3000 delivers exceptional picture quality. Thanks to 10.2 effective megapixels, Nikon's DX-format CCD sensor, exclusive EXPEED image processing system, and compatibility with an extensive selection of legendary NIKKOR lenses, the D3000 produces finely detailed images that can be freely cropped and enlarged while retaining sharpness.
Extending the D3000's excellent performance is Nikon's exclusive Scene Recognition System, Active D-Lighting, continuous shooting up to 3 frames-per-second, advanced 3D Color Matrix Metering II, and 11-point selectable autofocus.
For comfortable viewing when playing back images and retouching photos, the D3000 features a bright 3.0-in., 230k-dot TFT LCD monitor. The large monitor also improves readability of menus thanks to a font size that is 20% larger than that of the D60.
Extensive in-camera image control is available using Nikon's Picture Control System, which allows users to customize key digital image characteristics to suit personal preferences. For additional creative control, the D3000 includes comprehensive in-camera editing functions via its Retouch Menu that enhance photos with a variety of effects — without the need for a computer.
Whether it's grabbing point-and-shoot snapshots or exploiting techniques commonly used by more advanced photographers, the D3000 offers an easy, inviting way to experience the world of digital SLR photography and obtain beautiful pictures.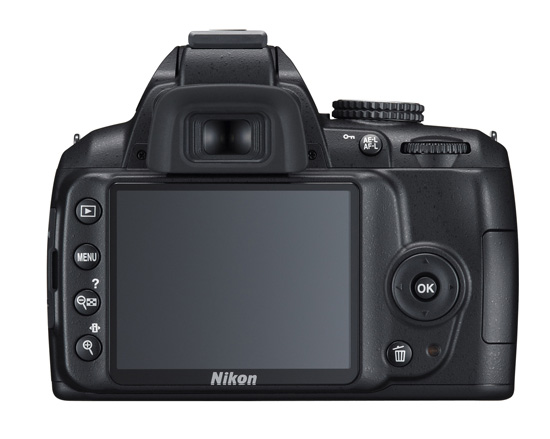 Nikon D3000 Feature Highlights
New Guide mode
In-camera guidance is provided by new Guide mode, which employs an easy-to-use interface that makes it easy for first-time users to select shooting modes. Additionally, after selecting an item in Guide mode, camera settings can be further adjusted in order to obtain optimal results.
Nikon DX-format CCD sensor; 10.2 effective megapixels
At 10.2 effective megapixels, the D3000 produces high-resolution images that enable beautiful enlargements without loss of sharpness. Normal ISO sensitivity is ISO 100 to 1600. For added shooting versatility, a Hi 1 setting increases sensitivity to ISO 3200.
EXPEED image processing system
The D3000 is equipped with Nikon's EXPEED image processing system. EXPEED realizes excellent resolution, long tonal scale, and superb color while also making possible fast processing of the D3000's advanced imaging functions such as Scene Recognition and Active D-Lighting.
Scene Recognition System
This feature improves accuracy for exposure, white balance, and autofocus by analyzing color and illumination over the entire scene milliseconds prior to shooting. It then adjusts the D3000 accordingly for optimal picture quality.
Active D-Lighting
The D3000 incorporates Nikon's Active D-Lighting function to vastly improve details in the shadows and highlights of high-contrast scenes. Like the Scene Recognition System, Active D-Lighting utilizes the 420-pixel RGB sensor to analyze a scene then adjust exposure to achieve images that closely resemble what the human eye sees. During processing, this function also restores details in the highlight and shadow areas of the image that may have been lost.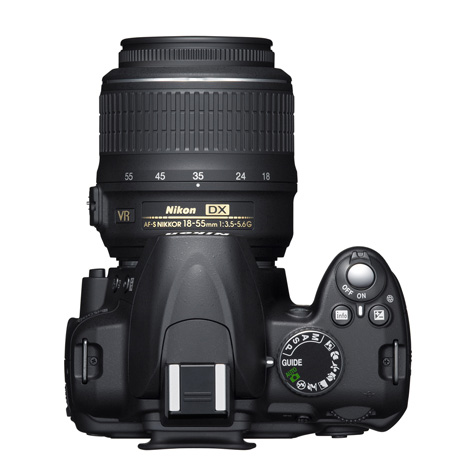 11-point AF system with Multi-CAM 1000 autofocus sensor module
Employing 11-point autofocus driven by Nikon's Multi-CAM 1000 autofocus sensor module, the D3000 delivers fast, precise focus over a wide area of the frame. Four versatile AF modes are available: single-point AF for stationary subjects, especially ones that are off-center; dynamic-area AF for moving subjects; auto-area AF when you want the D3000 to automatically determine the proper focus method; and 3D-tracking (11 points) AF for maintaining focus on subjects even if the composition changes.
3.0-in. LCD monitor
Image playback and viewing menus is now easier than ever thanks to the 3.0-in., 230k-dot TFT LCD monitor. The large monitor also results in text size that is 20% larger than on previous Nikon digital SLR cameras.
Picture Control System
The Picture Control System of the D3000 gives users the ability to customize key digital image capture characteristics to suit personal preferences. Six settings are available: Standard, Neutral, Vivid, Monochrome, Portrait, and Landscape.
In-camera photo editing
After shooting, the D3000's photo editing functions allow for in-camera retouching, lessening the need for a computer to enhance or modify images. The D3000 introduces a new Miniature effect under its Retouch Menu that modifies images to look like pictures of miniature models. Each editing function is applied to a copy of the image, with the original left unmodified.
Nikon Integrated Dust Reduction System
Dust reduction is handled by the Nikon Integrated Dust Reduction System. This is a comprehensive solution that reduces generation and accumulation of dust and also provides measures to remove dust. A key element of the solution is the Airflow Control System, which directs dust away from the image sensor. The system also includes an image sensor cleaning function that activates automatically when the D3000 is powered on or off. This vibrates the low-pass filter (located in front of the sensor) to free it from dust.
Superb NIKKOR lenses
The D3000 opens up a wide range of possibilities for dramatic expression thanks to full compatibility with the extensive lineup of NIKKOR AF-S and AF-I lenses. From ultra wide-angle and micro to super telephoto, NIKKOR lenses give users the means to explore their creativity to the fullest.
Nikon D3000 Other Features
Extensive playback options that allow viewing of images one at a time or in batches of 4, 9, and 72 as well as Calendar view that organizes images by shooting date and time. A histogram display is also available that shows exposure data for a magnified area of the image.
Highly durable shutter unit tested to 100,000 cycles.
Long-lasting Rechargeable Li-ion Battery EN-EL9a that provides up to 550 shots per charge. (CIPA standard, with AF-S DX NIKKOR 18-55mm f/3.5-5.6G VR and flash fired at full power once every other shot.)
Built-in flash with a guide number of approx. 12/39 (ISO 100, m/ft., 20°C/68°F) and support for Nikon's i-TTL flash control.
Support for the Nikon Creative Lighting System when using SB-900, SB-600, or SB-400 Speedlights, or the SU-800 Wireless Speedlight Commander.
Compatible with all NIKKOR AF-S and AF-I lenses that have an autofocus motor.
Compatible with the optional Wireless Remote Control ML-L3. There are two shutter release modes available when using the control: Quick Response mode for immediate triggering of the shutter release and Delayed Remote mode, which delays triggering for two seconds.
Viewfinder grid lines that aid in picture composition.
Compatible with SD and SDHC memory cards
Includes Nikon ViewNX image browsing and editing software, which lets you organize, label, and select images as well as perform NEF (RAW) image editing adjustments and conversions.
Photos captured with the D3000 can be used with optional Nikon Capture NX 2 photo-editing software, which features patented U Point® technology and powerful tools for quick and easy photo editing, including enhanced NEF (RAW) Editing.
Specification
Effective pixels
10.2 million
Image sensor
CCD sensor, 23.6 x 15.8 mm; total pixels: 10.75 million; Nikon DX-format
Image size (pixels)
3,872 x 2,592 [L]; 2,896 x 1,944 [M]; 1,936 x 1,296 [S]
Sensitivity
ISO 100 to 1600 in steps of 1 EV. Can also be set to approx. 1 EV above ISO 1600 (ISO 3200 equivalent), ISO sensitivity auto control available
Storage media
SD memory cards, SDHC compliant
Monitor
3.0-in., approx. 230k-dot TFT LCD, and brightness adjustment
Exposure metering
3D Color Matrix Metering II, Center-weighted, and Spot Metering
Exposure modes
Auto modes (auto, auto [flash off]), scene modes (Portrait, Landscape, Child, Sports, Close up, Night portrait), programmed auto with flexible program (P), shutter-priority auto (S), aperture-priority auto (A), manual (M)
Interface
Hi-Speed USB
Power source
One Rechargeable Li-ion Battery EN-EL9a
Dimensions (W x H x D)
Approx. 126 x 97 x 65 mm (5.0 x 3.8 x 2.6 in.)
Weight
Approx. 485 g (1 lb. 1 oz.) without battery, memory card, or body cap
Source: Nikon