PENTAX Imaging Company has announced the PENTAX X70 Megazoom digital camera featuring a high magnification 24X optical zoom lens with wide-angle to super-telephoto coverage housed in a highly portable, compact, lightweight body.
With 12 megapixels, SLR-like styling and flexible exposure modes, the PENTAX X70 is a true bridge between compact digital cameras and digital SLRs. The X70 is the ideal camera for the intermediate to advanced shooter who wants to step up in form and function from digital compact offerings without the size, weight, and expense of a true DSLR camera. The X70 offers photographers the ease-of-use of a compact camera with powerful shooting options traditionally found on a DSLR, such as aperture/shutter priority and metered manual modes, true hardware sensor-movement Shake Reduction, fast operation, and a high quality zoom lens. This new model performs superbly and effortlessly in a variety of photographic situations from casual day-to-day snapshots to travel and sports photography.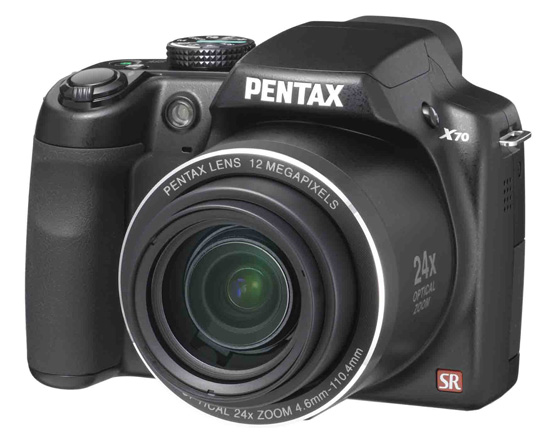 Also announced is the smc PENTAX DA 15mm F4 ED AL Limited ultra wide-angle lens for PENTAX Digital SLR Cameras. This latest model in PENTAX's acclaimed Limited Lens series inherits all the attributes of this renowned product line including high quality image reproduction and high grade aluminum lens barrel finish, while providing users with a unique ultra wide-angle perspective. The lens will ship in April 2009 for $649.95 USD, while the PENTAX X70 will ship in April 2009 for $399.95 USD.
These PENTAX products will be displayed at PMA – The Worldwide Community of Imaging Associations Trade Show from March 3-5, 2009 in Las Vegas. More information is available here: www.pentaximaging.com.
PENTAX Imaging Company is an innovative leader in the production of digital SLR and compact cameras, lenses, flash units, binoculars, scopes, and eyepieces. For almost 90 years, PENTAX has developed durable, reliable products that meet the needs of consumers and businesses. With headquarters in Golden, Colorado, PENTAX Imaging Company is a division of Hoya Corporation.
Source: Press Release