PENTAX Imaging Company has announced the latest models of two of its most popular, feature-rich, wallet-friendly compact digital cameras. The ultra-slim and stylish PENTAX Optio P80 digital camera features a lightweight design in three fashionable colors including Black, Pearl, and Mint. The new entry-level PENTAX Optio E80 features a large, easy-to-view 2.7 inch LCD monitor, beginner-friendly controls and high resolution widescreen HD video capture.
PENTAX Optio P80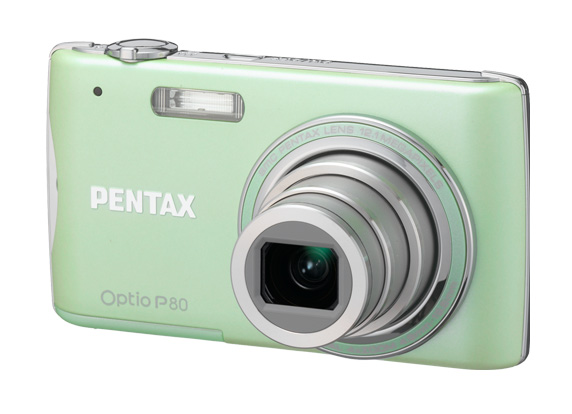 The new Optio P80 is the latest model of the popular Optio P series of digital compact cameras, and features a slim, lightweight body with advanced features including:
12.1 megapixel CCD for detailed images, large prints, and cropping flexibility.
PENTAX 4X wide angle optical zoom is equivalent to 27.5-110mm focal length.
Large 2.7 inch LCD with 230,000 dot resolution for accurate composition and playback of still images and video.
High resolution, widescreen, HD video capture up to 720p at a full-speed 30 frames per second.
PENTAX Shake Reduction (SR) technology features Pixel Track SR, Digital SR, and Movie SR to stabilize images and video for beautiful, blur-free results.
Fast Face Detection technology sees up to 32 faces in as little as 0.03 seconds for easy portrait photography.
Smile Capture automatically captures pictures when your subject smiles, and Blink Detection alerts you if your subject's eyes are closed during the exposure.
PENTAX Auto Picture mode automatically selects from eight shooting modes for beautiful images in any setting.
Sensitivity up to ISO 6400 boosts shutter speeds to freeze subject movement for blur-free images even in low lighting.
PENTAX improved the Face Detection AF & AE function on the P80 to now capture subject faces from an angle. And, a more responsive version of the Auto-Tracking AF function helps keep an active subject in constant focus.
PENTAX Optio E80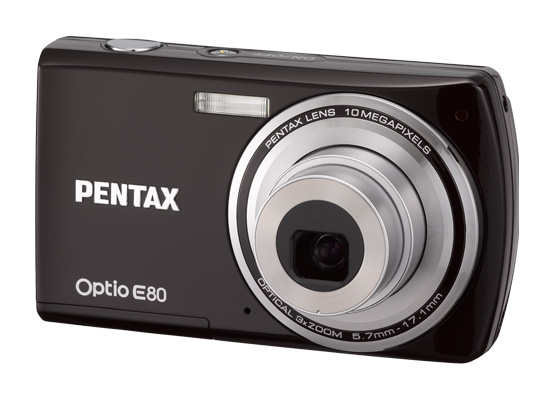 The PENTAX Optio E80 comes equipped with a host of user-friendly features and functions to make high-quality digital photography effortless even for first-time digital camera users. These include easy-to-press, large control buttons, the PENTAX original Auto Picture mode that automatically selects the most appropriate shooting mode for a given subject or scene and
world-standard AA-size batteries as a power source. Optio E80 features include:
10 megapixel CCD for detailed images, large prints, and cropping flexibility.
Large 2.7 inch, 230,000 dot LCD for accurate composition and review of still images and video.
PENTAX 3X wide angle optical zoom lens is equivalent to 32-96mm focal length.
High resolution, widescreen HD video capture at 720p at 15 frames per second with sound.
ISO sensitivity up to 6400 speeds up shutter response to freeze subject movement, providing sharp images even in very dim lighting.
Easy to read camera menus may be customized with many different language options.
Face Detection for perfectly focused and exposed portraits.
Available in the Black, Pearl, and Mint, the Optio P80 will be available in September 2009 at $199.95 USD. Available in Silver or Black, the Optio E80 will be available in September 2009 at $129.95 USD.
Source: Pentax