Ultra-compact, light and beautifully styled, it's always with you. Even smaller and slimmer than its predecessor, the new Handycam® HDR-TG7VE from Sony is again the world's smallest, lightest Full HD camcorder.
The head-turning TG7VE redefines the concept of 'HD to go'. With stylish looks, smart shooting features and brilliantly simple operation, it's a perfect travel partner. Slip it into a pocket or bag for nights out, parties weekends away, business trips or longer trips abroad.
Like its TG3E predecessor, the super-tough pure titanium body features a special Premium Hard coating. This protective layer shrugs off everyday scratches, keeping the camcorder's chic, cutting edge looks for longer.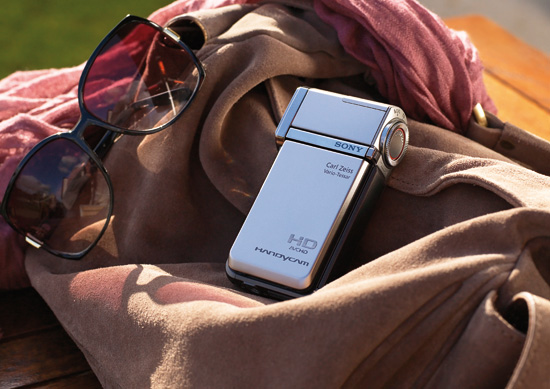 Beneath the sleek, slim lines of the TG7VE you'll find extraordinary picture quality and powerful shooting features to help you get more from your memories.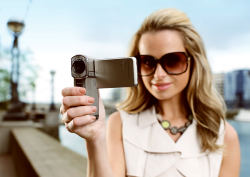 Inside there's a generous 16 GB memory that stores up to 6 hours (approx.) of crisp, detail-packed Full HD video and stereo sound. If you want to shoot for even longer, just slip in an optional Memory Stick™. The TG7VE can record over 6 hours of HD footage onto a 16 GB Memory Stick™, giving up to an incredible 12.5 hours total shooting time – with no need to carry any tapes or discs.
For keen travellers, the pocket-sized TG7VE keeps track of your memories, wherever you are in the world. There's a sensitive GPS receiver inside that plots your location as you travel. After shooting, Map Index shows where clips and still photos were taken as 'map pins' on the LCD screen. You can also retrace your journey when you're back home, with exciting on-line maps displayed on your PC using the supplied Picture Motion Browser software.
Operation is simplicity itself. Shooting controls are pared down to a minimum for confident, fuss-free operation. It's easy to switch instantly between video or stills mode: just press REC Start/Stop for video, or touch the adjacent PHOTO button with your thumb and you're ready to grab stunning 4 megapixel still photos. With no mode dials to worry about, you can capture video or still images with equal confidence. It's like having a camcorder and digital camera with you at the same time – without the extra bulk.
Intelligent Face Detection helps you capture clear, perfectly exposed portraits both on video and photos. Smile Shutter automatically captures photos of happy, smiling faces. It even works automatically while you're shooting video, with no need to switch shooting modes.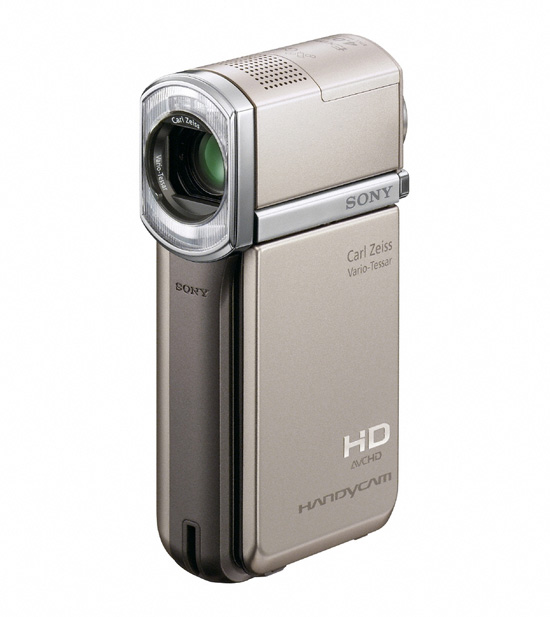 The high-resolution 2.7-inch LCD touchscreen now features a stylish new 'seamless' design. It's also beautifully easy to use, with a newly-simplified menu system. The power is ON as soon as you flip open the LCD, and start-up from standby is quicker than ever, so there's less risk of missing that once-in-a-lifetime moment. Just flip open the LCD touchscreen and you're ready to start shooting in a fraction of a second. Standby power consumption is also improved to almost zero, letting you keep the TG7VE ready for action in a pocket or bag with less battery drain.
After shooting, the TG7VE gives you even more ways to enjoy your video memories. Highlight Playback creates 'mini movies' for you, with no editing skills needed. Just touch the icon on the LCD screen: shots are selected automatically from your recorded footage and photos, and edited together with a choice of musical soundtrack and stylish transition effects. Fun, quick and easy, it's a perfect way to share your memories, either on the go or at home on your HD television.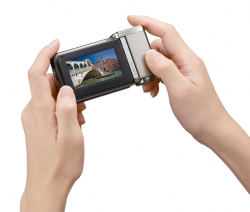 Connect the TG7VE to your PC, and quick uploads to image-sharing web sites are just a few mouse clicks away. Easy-to-use Picture Motion Browser software (supplied) lets you manage and browse your clips and still shots in a unique calendar view. Shots and clips can also be uploaded without fuss to popular sites like YouTube™, Facebook, Flickr and Daily Motion: Picture Motion Browser does all the hard work for you.
There's also a wide range of accessories by Sony, beautifully designed for great looks and dependable performance with your Handycam®. Available as an option, the VCL-HGE07TB 'wide angle cap' slips easily onto the front of the camcorder's lens. The high-quality adaptor boosts wide angle performance of the TG7VE to 30mm, packing in more of panoramic landcapes, interiors and fun-filled party scenes. There's a choice of protection options, including the LCM-TGA case designed exclusively for the TG7VE, and the LCS-TGB soft carry case. Perfect for travellers, the exclusive LCS-STA organiser case has space for the TG7VE plus a spare battery, travel charger (BC-TRP) and cables (all optional).
The Handycam® HDR-TG7VE Full HD Memory Stick™ Handycam® is available from May 2009.
Handycam® HDR-TG7VE Specification table
Movie format HD: AVCHD, SD: MPEG2
Recording media 16 GB internal memory (increased with optional
Memory Stick™)
Image Device 1/5" Exmor CMOS Sensor with ClearVid Array
Number of Megapixels (Gross) 2.3 Megapixels
Number of Megapixels (Photo) 4 Megapixels
Image Processor BIONZ
Lens Carl Zeiss Vario-Tessar
Zoom 10x Optical, 120x Digital
SteadyShot Yes
Audio System Dolby Digital Stereo with Zoom Microphone
Automatic Geotagging by GPS Yes
Face Detection / Smile Shutter Yes / Yes
Source: Sony