The Japanese accessories maker Atelier Wazakura has come up with another odd-looking keyboard. Its creation, dubbed the Honkawa 2, will please computer accessories lovers with a chassis entirely covered with leather!
Only a few details about the keyboard are known so there's room for speculation. The Honkawa 2 keyboard is most likely hand made as Atelier Wazakura mentioned it would ship only 10 keyboards per month. The leather covers the keyboard's frame but the keys are made entirely of leather with the symbols engraved. Featuring 103 keys, the QWERTY Honkawa 2 also offers Japanese layout while the keys have 19 mm key pitch with 3.3 mm of key travel and nearly 50 g of operating force.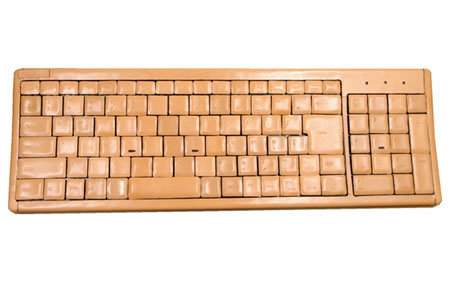 Lastly, the Honkawa 2 comes with a USB interface, although it includes a PS/2 adapter too. Measuring 390 x 127 x 21.5 mm (WxDxH), the Honkawa 2 weighs about 600 grams and you can have it for 25 200 Japanese yen, which is approximately 317 USD.

Source: Techpowerup