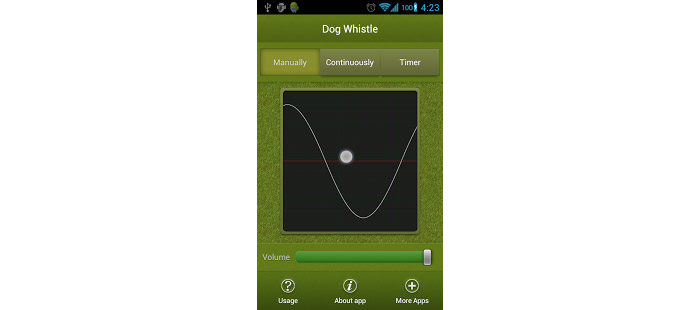 Dog Whistle is an interesting Android application that allows you to command your dog even at large distances. The app produces sound that dogs can hear even far away but to humans this sound is out of range to human hearing. Thus you can be in full control of your dog while not creating trouble for the people around you; furthermore due to the nature of the sound and the way dogs hear, your pet can hear your command even far away.
The application is a simple program that just 2.7 MB in size. Once installed you will see a green screen with three major options – the first one will let you manually start and stop the dog training whistle, the second one is a continuous dog whistle that you can stop when you want, and the third one is a timed whistle that can last between 5 seconds and one hour. Basically using these modes you can train your dog to obey your commands or so the developer says.
A big downside to the app is that it is ad-supported. It installs different ads on your device that pop up even when Dog Whistle is not running. This is annoying, at least, but might be worth it given the app does its job and is actually free.
Will you download it? It depends on you but to do so you must at least have a dog.
You can get the app here: Dog Whistle.