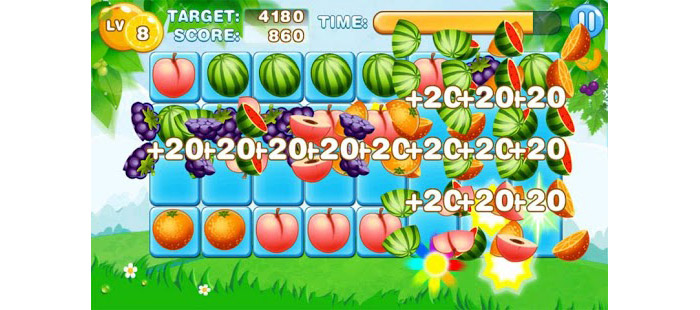 Fruits Break has been a new free Android-based game that has found its place on the first pages of Google Play recently. The game combines various features taken from other games, but instead of becoming boring, has actually turned into a rather refreshing game.
Fruits Break combines elements from Fruit Ninja and various other combinations games. Here the goal is to destroy fruits just like in Fruit Ninja but this time you don't have to cut them in half – instead combine them in various queues of three or more and watch how they disintegrate taking other fruits with them. The graphics is fun and the music too and most likely you will like the game. You can either play the Puzzle mode or the Arcade mode – the goal of the former is to advance through a number of levels, while playing the latter you must score as high as possible for a limited amount of time.
The game is good but has a few downsides – it tends to crash and is full of ads as it is an ad-supported application. Apart from this Fruits Break is a nice game that can help you have some fun time no matter where you are.
You can find Fruits Break here.