Experience a theater in your own home or the excitement of vivid games with the Genius six-piece SW-HF5.1 5050 Wood Surround Sound System. With the SW-HF5.1 5050, you can experience bullets shooting by in games and booming explosions in movies from this solid and elegant, cherry wood home theater system.
This six-piece wood speaker system combines a 75 watt subwoofer with a built-in 6.5" driver to provide deep rich bass performance. A three-way center speaker brings you excellent and clear middle sound range. Four 15 watt two-way satellites deliver a perfect surround effect. A remote control controls the volume for speakers and connection to your stereo devices. You can connect to a DVD, TV, and other stereo devices easily. And the LED display shows volume digitally. Connection is easy and simple; all of the SW-HF5.1 5050 speakers and cables are color-coded and clearly labeled for easy setup.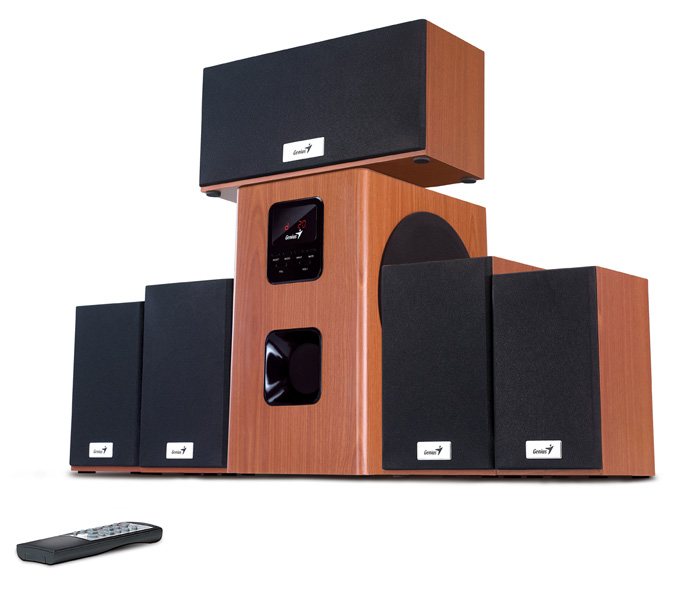 Set up your own theater and concert hall at home with the SW-HF5.1 5050, and enjoy great sound from music and movies with it. Just contact your salesperson how to pick one up.
Key features:
Six-piece wooden home theater speaker system with a total of 150 watts RMS output power
Subwoofer: 75 watts
Center: 15 watts
Front/Rear: 15 watts per channel
LED display shows volume
Create 5.1 surround sound for music, movies and video games
Great for working with a DVD player, Game console, TV, and MP3/CD players
Remote control included
Color available
Cherry wood
Total RMS (Watts)
150
Subwoofer
75
Center
15
Front/ Rear
15
Driver unit
Subwoofer: 6.5" 8ohm woofer
Center: Two 4" 4 ohm full range, 1" 8ohm tweeter
Front: 4" 8 ohm full range, 1" 8ohm tweeter
Rear: 3" 4ohm full range, 1" 8ohm tweeter
Frequency Response
20Hz~20KHz
Signal-to-noise ratio
85dB
Power Source
AC transformer built-in
Function
Master volume
Center volume
Surround volume
Subwoofer volume
Mute
Aux input selection
4
IR remote control
Yes
Volume Control
Master/woofer/center/front/rear
Channel Volume Control
Yes
Input source selection
DVD, TV, GAME, CD/MP3
Mute button
Yes
Reset
Yes
Six RCA jacks
Yes
AUX in
3
Power on/off switching
Yes
Output (Spring tags)
Yes
Volume up / down
Master/woofer /center /front/rear
Channel volume up/down
Yes
Surround effect
Yes
Mute
Yes
Input source selection
Game, TV, DVD (5.1) , CD/MP3
Reset
Yes
Source: Genius