Mad Catz have come up with another interesting gaming mouse. Featuring unmatched flexibility, the Mad Catz Cyborg M.M.O. 7 gaming mouse comes with very unusual looks, an adjustable weight system, ergonomic finger resting places, multiple buttons, and a high DPI sensor.
The new mouse comes with impressive specs. The DPI is adjustable from 100 to 6400 in increments of 25, allowing you to fine tune the mouse's behavior based on the firefight you are in – either sniping behind a tree or firing in all directions while running. The Cyborg M.M.O. 7 mouse also has 50G of acceleration, a 1,000Hz polling rate, tracking speed of up to 6m/sec, slick PTFE feet, and a gold plated USB connector attached to a braided cable.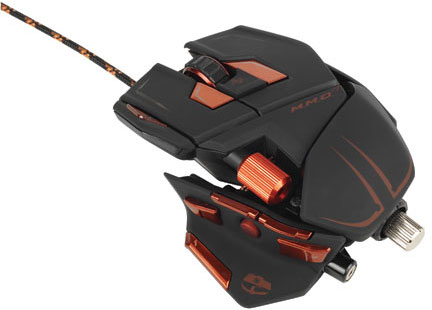 But the adjustable weight system is the one that steals the show. The mouse ships with five 6-gram weights with a storage canister to hold the ones you opt not to use. This is supplemented with two additional pinkie finger rests and two additional palm rests, all of which add up to what Mad Catz claims is the world's most adjustable gaming mouse.
The new gaming mouse is now available for pre-order online for a price of 129.99 USD.
Source: Hot Hardware