OCZ has released a new version of the firmware for its Vertex 4 SSDs that dramatically improves performance.
The new firmware is just a release candidate as of now and comes under the 1.4 version but even then the new firmware nearly doubles sequential write performance for lower capacity models, significantly boosts sequential read performance at low queue depths, and improves general performance under real-world workloads comprising mixed reads and writes. The firmware is not the only newcomer – OCZ has also added a new 64 GB Vertex 4 SSD.
"OCZ strives to deliver new features and superior performance with our premium Vertex 4 solid state drives by continuing to enhance our firmware and making those improvements available to all our valued customers. With firmware v1.4, OCZ continues to fulfil its promise of delivering the most innovative, and highest performing SSDs on the market, regardless of file and data type, I/O workload, queue depth, and drive capacity," said Ryan Petersen, chief executive officer of OCZ Technology.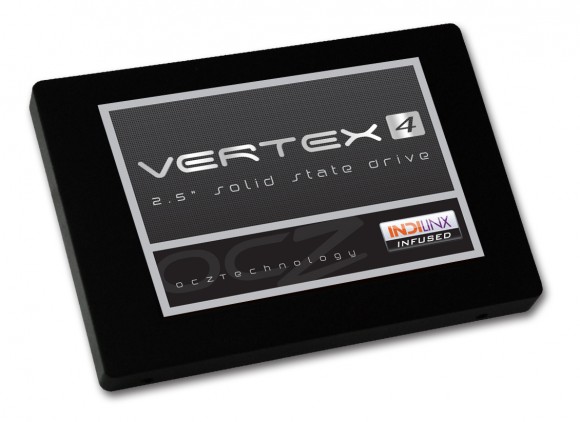 The faster speeds of the Vertex 4 SSD, thanks to the new firmware, will continue to position OCZ ahead of the competition. Talking in numbers the new firmware v1.4RC nearly doubles the sequential write speed of the 128 GB model from 200 MB/sec to 420 MB/sec while the 256 GB model can now give you 465 MB/sec of write speed up from 380 MB/sec. Read speed for all models now jumps from 535 MB/sec to 550 MB/sec. Owners of the largest 512 GB model, however, will only get the slight read speed increase with the write speed staying the same.
The v1.4RC firmware upgrade is now available today for customers via the company's website, and Vertex 4 SSDs will soon begin shipping to resellers with final v1.4 firmware in the coming weeks.
As to the new 64 GB Vertex 4 SSD, OZC targets it at mobile users and people who are price conscious. The 64 GB Vertex 4 will be commercially available by the end of the month through the company's global channel.
Source: X-bit Labs