The maker of various gaming PC peripherals ROCCAT has announced the arrival of a new gaming mouse, called Kiro. While Kiro may seem like another gaming mouse in fact it is not – according to ROCCAT Kiro is the world's first "superdextrous" mouse – that is, it can be used by both right-handed and left-handed people.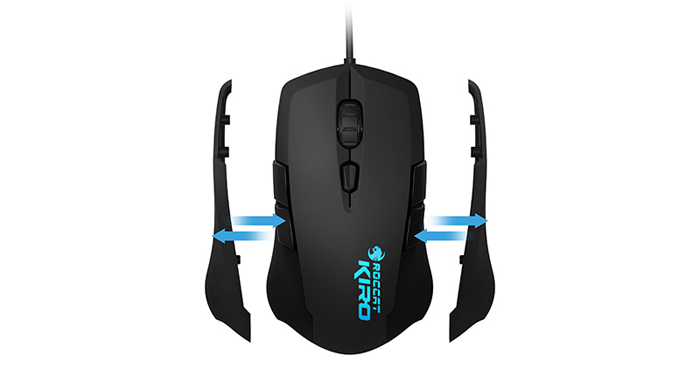 This is done by using four different but durable sideparts, including both buttons and blanks. They can be attached to the left and right sides of the mouse and make Kiro a universal solution for all gamers around the world. On the inside Kiro includes a sensor, called Pro-Optic Sensor R2 that provides up to 2000 dpi of sensitivity but by using the so-called Overdrive Mode it can be taken up to 4000 dpi. The mouse also offers 1000 Hz polling rate, 1 ms of response time, 20g acceleration, a Turbo Core V2 32-bit ARM-based MCU and a 1.8-meter USB cable. Finally Kiro has a customizable ROCCAT logo light system with 16.8-million colors that add an additional touch to the mouse.
The new mouse measures 12.0 x 6.7 x 3.8 cm (L x W x H) and weighs 100 grams. Kiro requires a computer with Windows 7 or newer, a free USB 2.0 port and an Internet connection for driver installation. The mouse will be in stores by the end of the month and will sell for USD 49.
Source: ROCCAT