World class flash memory module manufacturer, Silicon Power announces today the new Xpower DDR3 overclocking series memory module. Complete with dual (2GBx2) and tri-channel (2GBx3) packs, it is available in DDR3-1600, 1800, 2000, 2133 MHz variants. Completely compatible with Intel quad-core Core i5 and Core i7 platforms, Xpower DDR3 modules use "oblique groove manufacturing process" and pure aluminum heat sink to resolve heat dissipation issues. In addition, Xpower DDR3 applies 1.65V to maintain high speed and stability to meet the needs of enthusiasts and gamers.
The oblique groove heat sink design of Silicon Power's Xpower DDR3 overclocking series increases the heat dissipation area of the heat sink and can provide up to twice the heat dissipation ability over standard heat sinks. In addition, the Xpower DDR3 series use 8-layered PCBs and new fly-by topology design for more efficient commands, addresses, control signals, and clocks signals. It also supports On-DIE Termination (ODT) to dramatically reduce unwanted reflection signals and maximize speed. Silicon Power insists on using original memory modules and FBGA packaging for better heat dissipation and accurate data transfer.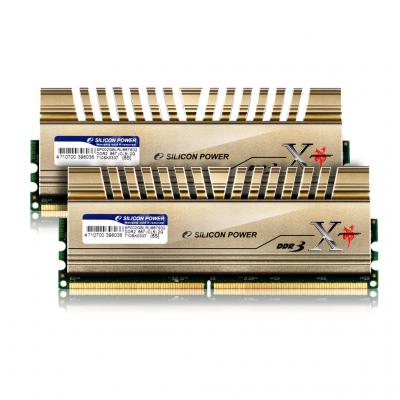 Silicon Power's Xpower DDR3 overclocking series are 100% tested for dual and tri-channel operation. They are high performance, stability and compatibility guaranteed. Comprising of superior specifications, speed and low latencies, it is the boost juice for all-round performance needs. The high memory module capacity is perfect for photo / video editing and gaming requirements so users can fully enjoy quad-core performances on their Intel Core i5 and Core i7 platforms.

Product specifications:
Memory module type: Xpower DDR3 Memory
Pins: 240Pin Long-DIMM
Frequency: DDR3-1600MHz / 1800MHz / 2000MHz / 2133MHz
ECC function: Unbuffer Non-ECC Memory
Capacity: 4GB(2GBx2) / 6GB(2GBx3)
Flash module spec.: 128Mx8 (bit) (single module capacity)
Operating voltage: 1.65 V
Cas Latency: 8 (1600MHz) / 9 (1800/2000/2133MHz)
Warranty: Lifetime warranty
New generation of heat sink featuring ultra efficient heat dissipation
1. Oblique groove heatsink to increase surface areas on top and bottom
2. All aluminum heatsink for maximum heat dissipation. It effectively reduces up to 6~10 degrees under load. Fashionable gold alloy look for futuristic looks
| | | |
| --- | --- | --- |
| Status / temperature | Xpower DDR3 | General DDR3 |
| Windows XP in idle mode | 31℃ | 35℃ |
| Full load 1hr | 37℃ | 48℃ |
| Full load 2hrs | 39℃ | 47℃ |
Source: Silicon Power