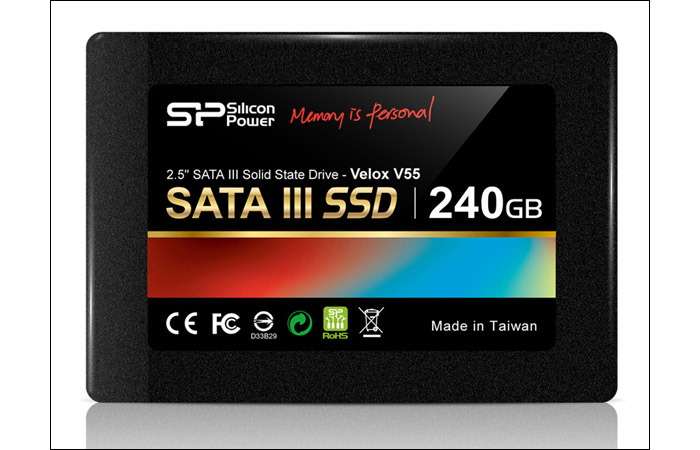 SSD maker Silicon Power has added two new SSD series to its product list – the 2.5-inch Velox V55 and Slim S55.
The Velox V55 line targets desktop computers and comes in an aluminum chassis, which measures 100 x 70 x 9 mm and weighs 79 grams. As expected the new SSD line fully supports the SATA 3.0 revision that allows for data transfer speeds of up to 6 Gbit/sec. Available in three capacities – 60 GB, 120 GB and 240 GB the Velox V55 line reaches 550 MB/sec of read speed and 440 MB/sec of write speed. The SSDs also support TRIM, ECC, RAID and NCQ and come with a special adapter that allows mounting into 3.5-inch drive bays as well as a three-year warranty. Pricing is unknown.
The Silicon Power Slim S55 line targets notebooks and ultrabooks and this is the reason it measures 100 x 69.85 x 7 mm. Coming in three versions too – with 60 GB, 120 GB and 240 GB of storage capacity – the new SSDs fully support SATA 3.0, TRIM, S.M.A.R.T., ECC and Garbage Collection – a technology that balances the load among different memory blocks for longer SSD life. As to speed the Slim S55 reaches 550 MB/sec of read speed and 400 MB/sec of write speed. Just like the V55 series, the S55 also offers 3 years of warranty but pricing is again unknown.
Source: Silicon Power