Thermaltake has officially announced the release of their specifically developed for silent operation CPU air-cooler – the Thermaltake Jing. The name of the new dual fan cooler comes from Chinese word for "silence",  representing its noise level of only 16 dBA.
The new cooler has dimensions of 131(L) x 123(W) x 162(H), weights 920 grams and utilizes a tower side-flow design for optimize cooling performance. It has five Φ6 heat-pipes, nickel coated mirror base and 41 0.5 mm thick specially designed aluminum fins to increase the overall thermal dissipation area. The Jing also have 2 "extremely" silent, reverse situated 120mm VR fans with adjustable speed from 800~1300RPM, which are reverse  offers up to 200W maximum cooling capacity and "un-audible" noise level of 16 dBA at a fan speed of 800 RPM.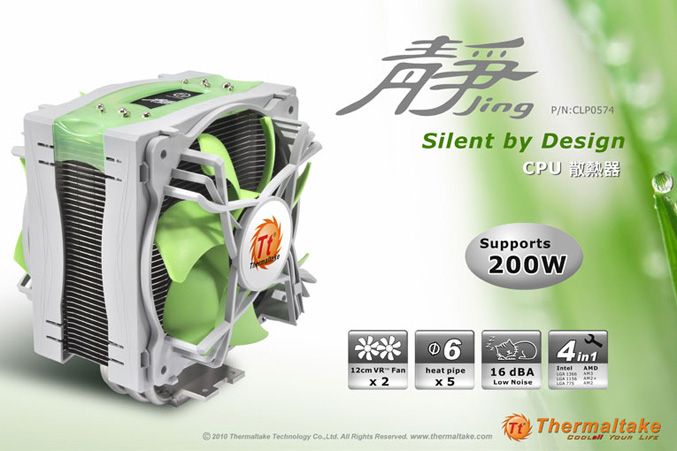 The Thermaltake  Jing CPU cooler support  Intel socket LGA 1366/1156/775 and AMD socket AM2/AM2+/AM3  and is available at a suggested retail price of US$59.99.