How many times have you found yourself with tangled headphones? It's a common situation and a very annoying at that – and ultimately it can kill your precious headphones.
There's a solution now, thanks to CordCrunch – a new set of headphones that is claimed to be the first headphone set in the world that doesn't tangle its wires.
The picture is pretty much self-explanatory – the wire has been stuck all over with tape that prevents it from tangling. The only downside would be its looks – the cable looks like a worm but it has a hidden secret – it can be stretched to 1 meter from its original length of 40 centimetres – and does the job really well.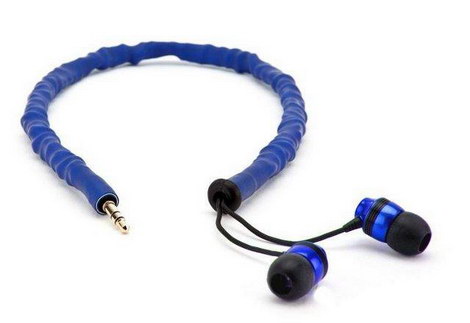 Unfortunately you can't buy CordCruncher right now – instead you can pre-order it. The reason is that CordCruncher is a Kickstarter project – and it now raises funds for mass production – all in all the people behind it need 20 000 USD. So if you really like the headphones you can help them by not only pre-ordering this rather unusual headset.
Source: Ubergizmo