The global leader in satellite navigation, Garmin International, announced a new TouchScreen Edge 800 designed for cyclists with simplicity and accuracy in mind. The Edge 800 combines elements of the Edge 500 and Edge 705, adding a touchscreen interface on top. The feature-packed Edge 800 also has new mapping options like Garmin's BaseCamp route planning, and also the BirdsEye Satellite Imagery.
"Whether you're on the road, in the mountains or around the city, Garmin's touchscreen Edge 800 puts the most important information of your ride at your fingertips," said Dan Bartel, Garmin's vice president of worldwide sales. "Thanks to its simple mounting system, improved mapping and route-planning capabilities, and the GPS-based features that make wires and calibration obsolete, we can easily say that one Edge fits all."
The TouchScreen Edge 800 by Garmin has a small and sleek design with a 2.6-inch display featuring a touchscreen interface. With the BaseCamp software by Garmin, users can plan their routes and then send them to the Edge 800, Edge 705 or Edge 605.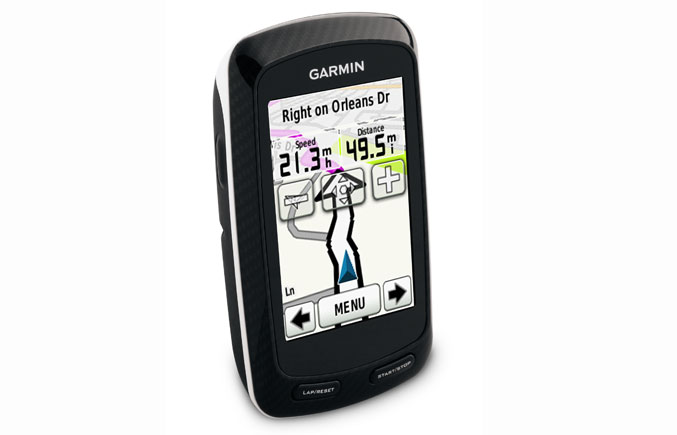 "At Garmin-Transitions, we're going to be on the cutting edge of technology, in everything we do," said Team Garmin sprinting sensation Tyler Farrar. "Edge 800 can track all of our performance data, and it also keeps things interesting on training rides because we can use it anywhere in the world to plan and follow new routes – on and off road – and always find our way back to the start."
Garmin Connect is a free online community with more than thirty million activities from around the world, and Cyclists can download, analyze and share rides on it.
"I can come back and do even more on the computer when I download it," said Team Garmin's Christian Vande Velde of combining Garmin Connect with the Edge products he used in consecutive top-8 finishes at the Tour de France. "It takes all the guessing out of everything in my training."
The Garmin TouchScreen Edge 800 tracks speed, distance, time, elevation, and GPS position very accurately thanks to the information it uses directly from the GPS satellites. It even syncs wirelessly through the ANT+ Technology, while incorporating a barometric altimeter to pinpoint elevation changes.
The TouchScreen Edge 800 by Garmin also does not require calibration, making it easy to switch between bikes. It is equipped with a high-sensitivity GPS receiver plus a HotFixTM that acquires and maintains the reception of the satellite very quickly. It also displays temperature readings, and changes the time zones automatically. The battery life of the device can last up to fifteen hours on a single charge. Edge 800 can bring you the highest level of detail available on the maps, thanks to a microSD card.
The TouchScreen Edge 800 combines more than twenty years of developing technologies by Garmin.