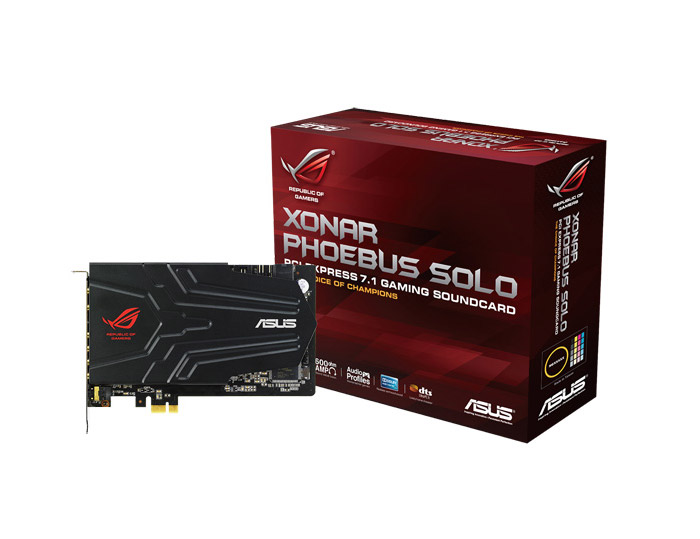 Asustek Computer has introduced the Republic of Gamers (ROG) Xonar Phoebus Solo gaming audio card. The new company product offers a number of advantages in comparison with other audio cards, one of which is precise positional audio and lifelike immersion in games.
The Xonar Phoebus Solo is a clear descendant of the original Xonar Phoebus. It comes with clear 118 dB signal-to-noise ratio, Dolby Home Theater v4.0, DTS UltraPC II surround sound and a powerful 600 Ohm headphone amplifier. As to the chip inside – it is believed to be the C-Media CMI 8888 – the same one found in the Xonar Phoebus.
To further improve the audio quality the new ASUS sound card comes with an EMI shield and the exclusive ASUS Hyper Grounding technology that reduces the electromagnetic interference inside all desktop PCs. Thus along with the high-fidelity PCM1796 digital-to-analog converter the ASUS Xonar Phoebus Solo delivers great sound to the amusement of gamers out there.
ASUS has thought of headphone users too – the Xonar Phoebus Solo teams with the Texas Instruments TPA6120A2 chip with 600 Ohm of impedance for superior sound quality. And the Dolby Home Theater audio enhancement provides cinematic surround sound to please your ears.
The pricing of the Xonar Phoebus Solo is unknown but given the Xonar Phoebus is around USD 200 the newcomer might be a bit more expensive or sell at a similar price point.
Source: ASUS