The Taiwanese Cooler Master company has been known for years for making various cooling devices, PSUs and cases but the company also has a gaming devices list.
The latest addition is the QuickFire Pro gaming keyboard, which joins the rest of the pack in the CM Storm QuickFire line of mechanical gaming keyboards.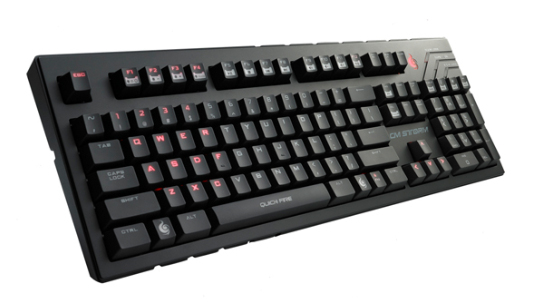 Based around the keys, the new QuickFire Pro sports laser-etched, matte-finished keys on top of Cherry MX Red, Black, Brown, or Blue switches – depending on the type of resistance and feedback you're looking for – complete with red LED lighting for the most-used gaming keys. There's also a set of backup caps in the package and a key puller too. N-Key rollover is supported regardless of whether you're connected via USB or PS/2. As expected you will also find a Game Mode key, which disables the Windows key and helps avoid potentially disastrous window minimizations during hot fights on the screen.
The Cooler Master QuickFire Pro gaming keyboard will be available later this month for 100 USD.
Source: MaximumPC