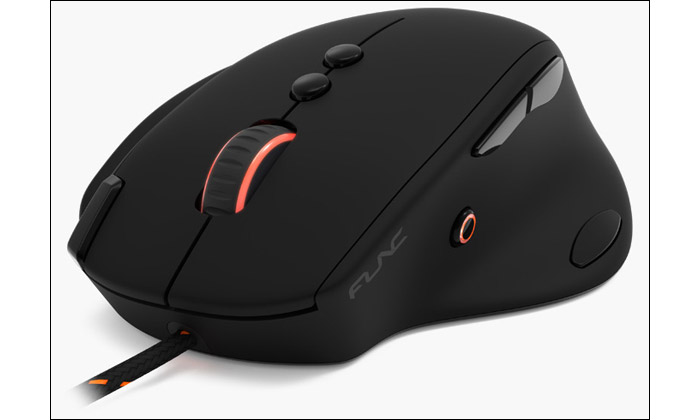 US gaming peripherals maker Func has announced a new gaming mouse – the MS-3 – that should take the company into the gaming market of 2013. The MS-3 is a really nice product with a number of features that will suit gamers out there – so no need for Razer hardware anymore!
The first thing that you will see is the black rubber-coated body of the MS-3 and its sophisticated and ergonomic design. Inside the mouse is equipped with an Avago 9500 sensor for accuracy and reliability that also offers adjustable lift off distance. The on-board 512 KB of memory and the installed WT6573 processor give the MS-3 an instant dpi step switch, up to three fully programmable profiles and recorded macros.
The Func MS-3 presents the gamer with resolution of 90-5670 dpi, up to 12 000 frames per second, tracking speed of 5.1 m/s, maximum acceleration of 30g, image processing of 10.6 MP/sec, as well as an adjustable report rate of up to 1000 Hz. The installed firmware can also be upgraded in case of need. The MS-3 measures 126 x 100 x 42 mm and weighs 127 grams.
In order to make use of the Func MS-3 you will need a PC running Windows 2000/XP/Vista/7/8, one available USB port and 10 MB of free hard drive space. The gaming mouse will become commercially available next month and will cost USD 79.95, which isn't little but in order to protect your investment Func offers a 2-year warranty too that starts on the day of purchase.
Source: Func