Mad Catz Interactive Inc., also known as Mad Catz has announced an update to the company's R.A.T.3 gaming mouse.
Starting now the Mad Catz R.A.T. 3 gaming mouse comes with the Avago 3090 optical sensor, which ups the mouse sensitivity to impressive 3500 DPI. Until now the mouse supported up to 3200 DPI.
"Mad Catz listen closely to the needs of the gaming community and some gamers simply prefer the feel, precision and the accuracy found when using an optical sensor." said Darren Richardson, the President and Chief Executive Officer of Mad Catz Interactive, Inc. "We are excited to offer the gaming community a choice of sensors with our R.A.T. range and look forward to expanding our user base further with today's announcement."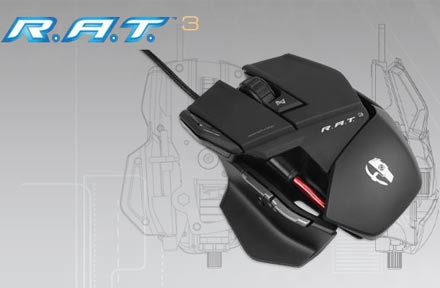 The updated mouse also allows gamers to choose from four different sensitivity options – 450 DPI, 900 DPI, 1800 DPI and now 3500 DPI. All other features of the mouse remain the same.
The R.A.T. 3 gaming mouse was first launched in April 2010 and targeted gamers who do not plan to turn professional. The updated mouse can be found online for a price of 59.99 USD.
Source: Gameguru.in