The designers at Shogun Bros. have come up with a new gaming mouse that features sniping controls, and as you may already expect, targets hardcore FPS gamers.
The highly innovative mouse is the second unusual product coming out of the company after the Chameleon X-1 Wireless Gamepad Mouse, a dual-purpose input device that functions as both a gamepad and a mouse, just like its name implies.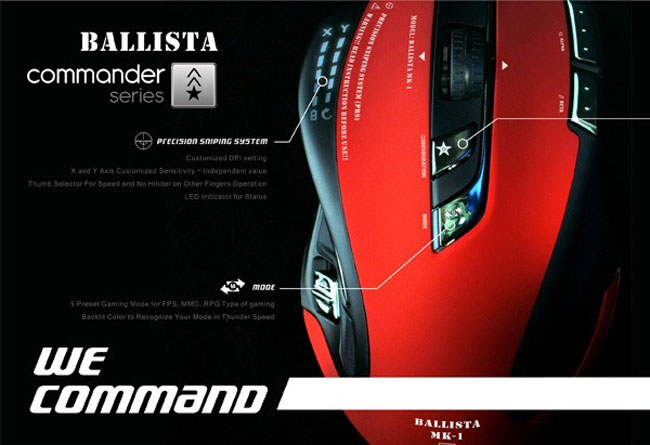 Called Ballista MK-1, the new gaming mouse comes with a sniping system of its own that helps gamers with headshots amidst heavy battles on the computer screen. The sniping system consists of completely independent X and Y DPI settings, which you can use to set slow vertical or horizontal movement for stable targeting. The new mouse does not target FPS gamers only – in fact it also comes with 20 customized pre-programmed DPI settings for FPS, MMO, RPG, and working around the desktop.
Other specs include a 5700 DPI sensor, 1000 Hz polling rate, 11 macro keys, 5 finger rests, a thumb selector for speed shoot, and a rubberized chassis.
The new Ballista MK-1 gaming mouse will be available for purchase in Q2 2012 with the price being unknown at the moment.
Source: Hot Hardware