Acer, the third largest vendor in the PC market announced two new models in its Business Series (B Series) monitor line for professionals. The new Acer B Series monitors – B233HU bmidhz and B273HU bmidhz – feature a stylish ergonomic design and state-of-the-art features, making them perfect for the office.
New Acer B Series Monitors Offer Design, Performance and Technology to Maximize Computing Productivity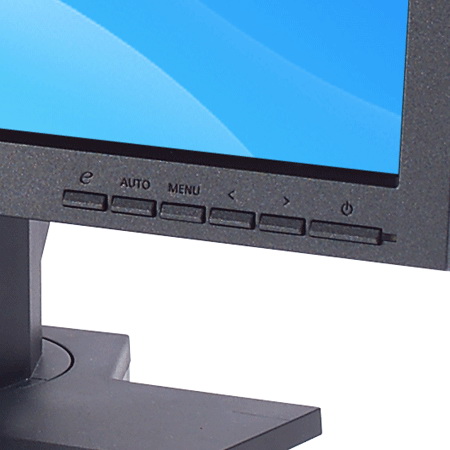 "With these new monitors, Acer is continuing to provide our business customers with products that offer advanced technology, assure dependability and offer a positive return-on-investment," said Chris White, Director of Product Marketing – Peripherals, Acer Group. "The flexible adjustment and ergonomic design of the monitors maximize productivity and increase overall user satisfaction."
Sleek Design and Advanced Features
The new 23-inch and 27-inch Acer B Series monitors feature a stylish dark grey bezel with a sturdy, black base. Control buttons on the front panel allow easy and intuitive use while enhancing the monitors' sleek look.
Both new monitors feature flexible height adjustment, tilt and swivel, to optimize the best viewing angles. Users can tilt the monitors 15 degrees up or 5 degrees down, swivel 35 degrees to the right and left, and adjust the height up to 11 cm. These new viewing angles are not only great for a single user, but excellent for multiple people to view content on the monitors, such as presentations or videos.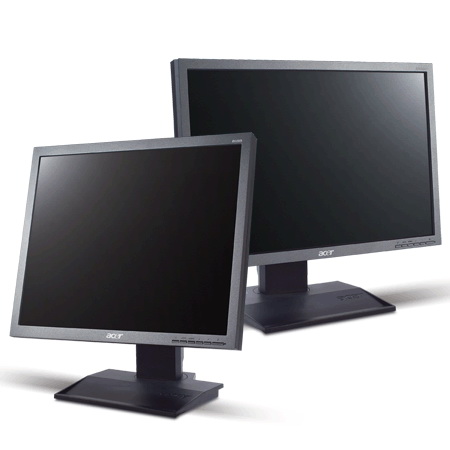 The new displays boast a 16:9 aspect ratio and a 2048×1152 resolution, providing excellent high-definition picture quality and the ability to multitask. The ultra-high 2048×1152 resolution allows the monitors to display two pages at the same time, presenting twice the length of a web page on a 1024×768 resolution monitor. The 16:9 aspect ratio allows professionals to view high-definition digital content without image distortion that arises from incompatible aspect ratios.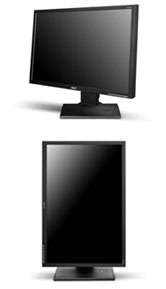 Professionals can clearly view detailed images and crisp graphics due to the system's 40000:1 (ACM) contrast ratio. The Acer Adaptive Contrast Management (ACM) features advanced technology that allows users to adjust images frame by frame to optimize contrast by enhancing detail and gradation. Additionally, Acer ACM enables the new monitors to use less power and save energy while providing a superior viewing experience.
Both Acer B Series displays feature rapid 5ms response times for viewing high quality moving images. The 23-inch model has a 300 cd/m2 brightness and the 27-inch has a 400 cd/m2 brightness, further improving the visual performance of the two monitors.
Acer's unique software solutions boost usability. The eColor Management on-screen interface allows users to tailor the performance characteristics of the display, such as brightness, saturation and contrast. The Empowering Key enables users to switch between viewing scenarios and create their own to compensate for application and environmental constraints. The eDisplay Management function is a powerful color enhancement and display rotation tool.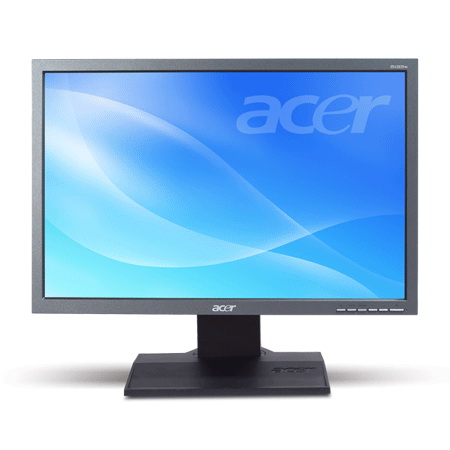 Specifications, Pricing and Availability
Acer's newest displays are available through authorized resellers and online retailers. The B233HU bmidhz display is available for an MSRP of $289 and the B273HU bmidhz display is available for an MSRP of $409. Following are the featured configurations:
Acer® B233HU bmidhz 23-inch LCD display: Available now for a MSRP of $289
23-inch Widescreen

0.265mm Pixel Pitch

2048×1152 Maximum Resolution

62Hz (Maximum) Refresh Rate

5ms Response Time

40000:1 Max (ACM) Contrast Ratio

300cd/m2 Brightness

160° (H)/160° (V) Viewing Angles

16.7 Million Colors

6 + Hi-FRC Bits

1x HDMI, 1x DVI (HDCP), 1x VGA Inputs

(2) 1.5 W Speakers

Vesa 100mm Wall Mount

Internal Power Supply

Energy Star Compliant
Acer® B273HU bmidhz 27-inch LCD display: Available now for a MSRP of $409
27-inch Widescreen

0.291mm Pixel Pitch

2048×1152 Maximum Resolution

62Hz (Maximum) Refresh Rate

5ms Response Time

40000:1 Max (ACM) Contrast Ratio

400cd/m2 Brightness

160° (H)/160° (V) Viewing Angles

16.7 Million Colors

6 + Hi-FRC Bits

1x HDMI, 1x DVI (HDCP), 1x VGA Inputs

(2) 1.5 W Speakers

Vesa 100mm Wall Mount

Internal Power Supply

Energy Star Compliant