Building on the success of the recently launched ATI RadeonTM HD 4890 graphics card — driven by the world's most powerful graphics processor1 — AMD announced availability of a factory overclocked graphics processor that is the first to break the 1 Gigahertz (GHz) barrier using standard air-cooling solutions.
* With this product, AMD achieves a notable engineering milestone as the first graphics company to break the 1 GHz barrier.
* The new ATI RadeonTM HD 4890 utilizes advanced GDDR5 memory and a 1 GHz clock speed to deliver 1.6 TeraFLOPs of compute power, 50 percent more than that of the competition's best single-GPU solution2. With this level of raw compute power, the 1 GHz ATI Radeon HD 4890 is set to deliver new levels of general purpose GPU-accelerated performance in ATI Stream applications such as video transcoding and post processing.
* This new version of the ATI RadeonTM HD 4890 marks the latest addition to the award-winning ATI RadeonTM HD 4000 series delivered by AMD technology partners Sapphire, XFX, Asus and TUL.
* The advanced design of the ATI Radeon HD 4890 delivers an amazing gaming experience in the latest games, including ground-breaking DirectX® 10.1 titles such as Ubisoft's Tom Clancy's H.A.W.X.TM, Electronic Art's BattleForgeTM and SEGA's StormriseTM released last month, as well as GSC Gameworld's S.T.A.L.K.E.R: Clear Sky. When compared to DirectX 10 game play, DirectX 10.1 games have proven to deliver higher game performance and an improved visual experience. In addition, these cards feature support for open standards like OpenGL3 with DirectX® 10-like hardware extensions, and the recently ratified OpenCL specification.
* The ATI Radeon HD 4890 supports advanced game physics. At the 2009 Game Developers Conference in San Francisco, Havok and AMD demonstrated the first implementation of OpenCL running on AMD graphics processors. In the demonstration, Havok's physics technology delivered complex and realistic simulations of real-world materials like cloth, demonstrating the potential for increased realism in forthcoming games.
* To date, the ATI Radeon HD 4890 card has won numerous awards, including the prestigious Editor's Choice Gold Award from HardOCP, the HotHardware Recommended Award and the Editor's Choice Award from Tweaktown, among others. The accolades speak to the excitement around the product and to the continued strength of the discrete graphics market overall, something analyst Dr. Jon Peddie of Jon Peddie Research predicts will continue to play a strong role in the computing industry.
* As a result of the worldwide accolades from media, developers, enthusiasts and fans, AMD released an "inside look" at how the card was made and what it means for gamers. The card marks a new aspect to the AMD "Dragon" desktop platform technology, providing an even more powerful single GPU desktop graphics option to OEMs, channel partners, and do-it-yourself (DIY) consumers.
"Throughout the 40-year history of AMD, we have continually focused on technology firsts that deliver superior value to the customer," said Rick Bergman, senior vice president, Products Group, AMD. "The 1 GHz ATI Radeon HD 4890 continues that tradition by increasing the performance and compute power of our flagship single-GPU solution, ensuring a great experience whether our customers are playing the latest DirectX 10.1 game or running GPU accelerated applications built with OpenCL."
Ecosystem support
The ATI Radeon HD 4890 graphics card is supported by a dozen add-in-board companies offering a variety of custom board and cooling solutions. Technology partners include ASUS, Club 3D, Diamond Multimedia, Force3D, GECUBE, Gigabyte, HIS (Hightech Information Systems), ITC, Jetway, MSI, Palit Multimedia, PowerColor, SAPPHIRE Technology and XFX.
Here is what partners are saying about the overclocked edition of the ATI Radeon HD 4890 graphics card:
"Achieving air-cooled clock speeds of 1 GHz with our Vapor-X cooler immediately puts the new Sapphire HD 4890 Atomic Edition graphics card in an overclocking class of its own," said Adrian Thomson, vice president, Marketing, Sapphire. "At 150 MHz above stock speeds, this card will unlock new levels of performance and allow gamers to push the latest DirectX 10.1 titles to new highs in image quality and frame rates."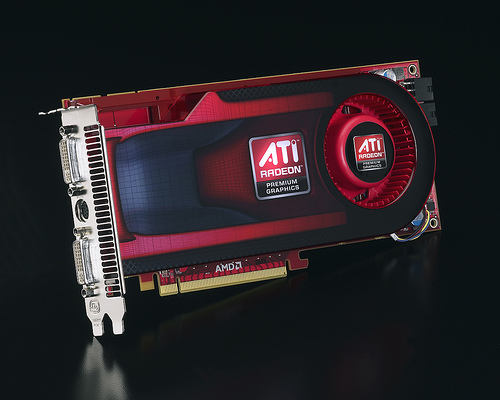 "XFX is renowned for its ability to design and deliver high-performance graphics products, expertly overclocked to maximize every aspect of the GPU," said Eddie Memon, senior vice president, Marketing, XFX. "The XFX team was excited to see just how far we could push the 1 GHz ATI Radeon HD 4890. I know our customers are going to love the performance of XFX's ATI RadeonTM HD 4890 Black Edition. Hitting 1GHz is an amazing feat, even more so when done in production-level volumes and with overclocking headroom to spare."
"ASUS has always prided itself on delivering leading technology, and the ASUS EAH4890 Formula Series packs all of the great features and performance gamers crave," said Kent Chien, associate vice president of graphics and multimedia business, ASUS. "In addition, we are equipping the ASUS EAH4890 Formula Series with Voltage Tweak technology and Super ML Cap, giving gamers the flexibility to boost GPU voltage and achieve as much as an 18 percent performance improvement over factory settings. The ASUS EAH4890 Formula Series and Voltage Tweak is a potent combination."
"With the PowerColor PCS++ HD4890, we built a truly performant graphics card around the exceptional ATI Radeon HD 4890 graphics processor and added our own ZEROtherm cooling system," said Ted Chen, CEO of TUL Corporation. "The mix of ATI Radeon HD graphics technology and PowerColor design gives our customers enthusiast-level game performance at an affordable price."
Source: AMD