AMD launched the ATI TheaterTM HD 750 PC TV chip offering HDTV viewing capabilities on desktop and notebook PCs around the world using analog, and digital, and free-to-air broadcast signals.
ATI Theater HD 750 uses advanced video processing and signal reception technologies for clear HD picture quality, crisp images, high color performance and fidelity for an authentic HD home theater feel on the PC.

With the proper connectors, notebook users can enjoy TV on their PC virtually anywhere in the world as the ATI Theater HD 750 is compatible with HDTV/DTV/analog broadcast signals including NTSC, PAL/SECAM, ATSC, ClearQAM and DVB-T.2
Take recorded content on the go by capturing and converting recorded TV shows into popular video formats such as H.264, AVI, MPEG, DivX, WMV and MPEG4 for use on portable media devices.3 For fast and seamless transcoding, consumers can use ATI Stream enabled video conversion software when they pair an ATI Theater HD 750 with an ATI RadeonTM graphics card.4
Using Windows Vista® Media Center, Windows® XP Media Center Edition or the forthcoming Windows® 7, consumers can schedule recordings and watch, pause and rewind live TV programs. Consumers can also store recorded programs on the PC hard drive, eliminating the problem of limited storage capacity found with most digital video recorders (DVR), and enabling the ultimate video library.3,5
ATI Theater HD 750 is scheduled to be available from supporting manufacturers later this year in a variety of solutions including PCI Express add-in cards, USB "stick", and others.
"ATI Theater HD 750 combines AMD's longstanding reputation for video expertise with consumer demand for a cost effective, easy to use and high quality TV on the PC experience," said Matt Skynner, Vice President & General Manager, GPU Division, AMD Products Group. "ATI Theater HD 750, in combination with ATI RadeonTM graphics and AMD mobile technology-based notebooks, provides a simplified, high-quality home-theater solution."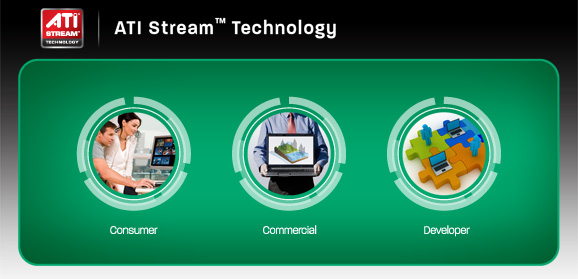 ATI Theater HD 750 advances AMD's platform technology with the means to receive broadcast HD video on the PC. AMD has a complete family of processors to capture and display TV content at home or on-the-go. Whether watching video from disk or free-to-air broadcast, AMD platforms offer customers a vibrant HD experience unlike any other.
Source: AMD