AMD releases FX Series Processors, debuts first eight-core desktop CPU

The much anticipated AMD FX family of CPUs are finally here, along with the first-ever eight-core desktop processor(check this Guinness World Record), all of which according to AMD, offer completely unlocked processor clock multipliers for easier overclocking and utilize AMD Turbo Core Technology to dynamically optimize performance across CPU cores for maximum performance on intense workloads.
AMD's new processors use the new multi-core architecture called "Bulldozer" and are based on 32nm process technology. The first four CPU models will be available the next few days and AMD advises you to combine them with AMD 9-series chipset motherboard and AMD Radeon HD 6000 series graphics cards to create the AMD "Scorpius" platform for "an astounding gaming and HD entertainment experience." But the main point here is, how do these new cpu will compete with the Intel's Core processor, in terms of price and performance?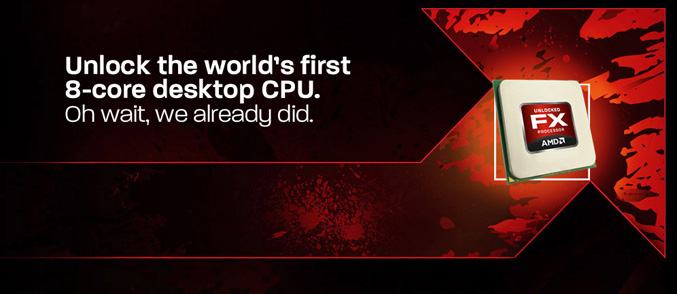 FX-8150: Eight cores, 3.6 GHz CPU base (3.9 GHz Turbo Core, 4.2 GHz Max Turbo), $245 suggested retail price (U.S.)
FX-8120: Eight cores, 3.1 GHz CPU base (3.4 GHz Turbo Core, 4.0 GHz Max Turbo), $205 suggested retail price (U.S.)
FX-6100: Six cores, 3.3 GHz CPU base (3.6 GHz Turbo Core, 3.9 GHz Max Turbo), $165 suggested retail price (U.S.)
FX-4100: Four cores, 3.6 GHz CPU base (3.7 GHz Turbo Core, 3.8 GHz Max Turbo), $115 suggested retail price (U.S.)
Source: AMD