Apacer Technology Inc, a global leader in memory modules and digital storage, today announced the release of its latest external hard drive: AC601. Apacer AC601 External Hard Drive features its lightning speed and various innovations, expectedly makes it the most sought-after external hard drive in current market. The AC601 comes with a Turbo HDD software and eSATA interface, hugely speeding up the transfer efficiency.
Moreover, It is uniquely equipped with "One Touch" backup and advanced "anti-shock" function, simply, safely and effectively protecting user's important data. In addition, the AC601's exterior aluminum cover case is elegantly-proportioned, combining practicality and looks in one compact external hard drive. Apacer AC601 is available in 320GB and 500GB, giving users ample storage and appropriate selection. Adding to its versatility and adaptability, Apacer AC601 is now certified with Microsoft Windows 7 compatibility. AC601 will be the best choice for users who seeking seamless compatibility in storage solution and operating system.
High-Speed Transmission: Turbo HDD and eSATA
Bundled with Turbo HDD software and built in eSATA interface, Apacer AC601 is not only a user-friendly storage solution, but also storage with great speed and efficiency. The Turbo HDD software can boost AC601's data transfer rates by up to 55%, it enhances time efficiency when transfers a large amount of data . The AC601 has a built-in eSATA interface supporting high-speed transmission. Turbo HDD software and eSATA interface drastically boost the transfer efficiency, meeting the needs of business professionals who seek fast and reliable data transferring and storage.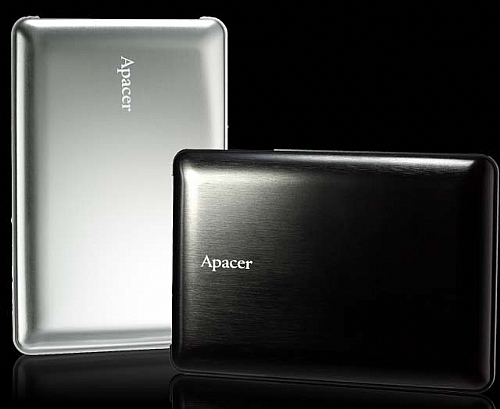 Elegantly-Proportioned Design
Apacer new compact AC601 External Hard Drive is designed with both practicality and elegant looks. Beside its black or silver aluminum cover case, a black leather pouch is enclosed in the package that user can use for the protection while carrying. The elegantly-proportioned design of Apacer AC601 brings user a pleasure while using and looking.
Anti-shock Design
In order to protect the HDD against falling or damage, the AC601 is designed with aluminum cover case, which protects HDD from outside damage, and the inside anti-shock materials absorb the shock. With these anti-shock design features, Apacer AC601can resist falls from the height of 120cm, effectively protecting important data from any damage or loss.
Data Backup and One Touch Backup (OTB)
There are two ways of data backup: manual backup with PCClone EX Lite software and one touch backup (OTB). The PCClone EX Lite software provides a convenient and easy way to save important data. In addition, the One Touch Backup (OTB) allows users to simply press the backup button for efficient and easy backup of data to the designated location. With the simple and clear interface, users have no need to spend time to read an instruction or manual for data backup.
Encryption: Secure Drive EX2 Lite Software provides the best security mechanism
Secure Drive EX2 Lite software can partition the hard drive into two separate zones: the Security Zone and the Public Zone. This unique function allows the user to hide the private data, protecting privacy when sharing the external hard drive.
Source: Apacer Technology