ASUS' Republic of Gamers Group is very committed to achieving the greatest performance ever, and continues to set world records with the Rampage III Extreme Motherboard, which combines the innovative graphics card, the ASUS ENGTX480 and the ROG 5870 Matrix Platinum which features the ATI Radeon 5870 chipset. The Rampage III Extreme Motherboard recently set several of the world benchmarking records.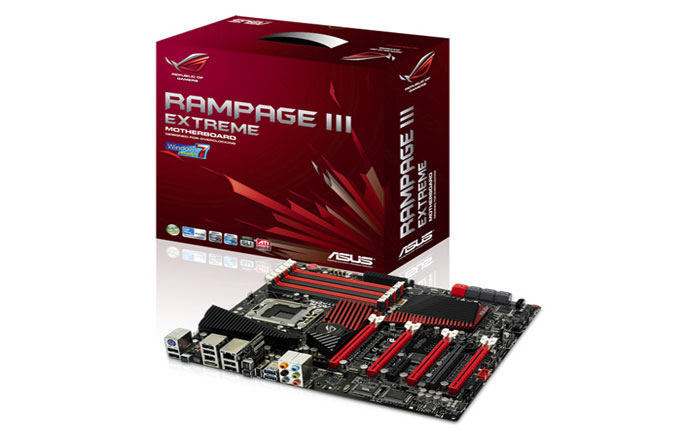 The Rampage III Extreme is based on the X58 Intel Chipset Architecture while using the flagship Core i7-980X Extreme Edition Processor. It has achieved amazing heights in the Industry Standard 3DMark 2003, 3DMark 2005, 3DMark 2006 and 3DMark Vantage benchmarks by Futuremark for a single platform based on CPU. The Rampage III Extreme has also exceeded a dual CPU based platform in 3DMark Vantage.
The Rampage III Extreme features the new Extreme Engine Digi+ power delivery system with enhanced bios controls and extensive adjustment ability that utilizes the award winning ROG Connect hardware and software. It also features USB 3.0 and SATA 6G. All of this is combined with a cutting edge and functional design in order to deliver quality and top tier performance.